On the Doll
(2007)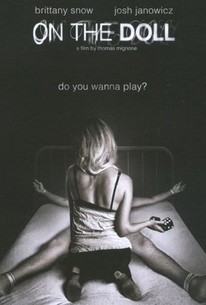 AUDIENCE SCORE
Critic Consensus: No consensus yet.
Movie Info
A handful of strangers living on the edge of Los Angeles' sex industry share a terrible secret in this psychological drama. Jimmy (Paul Ben-Victor) is a small-time kingpin in California's underground sleaze empire, and he runs a strip club and peep-show arcade where Tara (Angela Sarafyan) displays her body for paying customers. Tara is working off a sizable debt to Jimmy, and her boyfriend, Jaron (Josh Janowicz), meets with Jimmy's business partner Uncle Lou (Marcus Giamatti) to find out what it would cost to clear her bill. Eager to make some fast money to pay off Jimmy, Jaron teams up with Balery (Brittany Snow), a hooker who wants to get even with an abusive regular customer. One of Jimmy's more unlikely colleagues is Mr. Garrett (Eddie Jemison), a high-school teacher who learns that two of his students, Courtney (Chloe Domont) and Melody (Candice Accola), are attracted to him. Garrett decides to introduce the girls to Jimmy, who wants to lure them into a career in pornographic modeling. And Wes (Clayne Crawford) is a self-centered musician whose career has yet to take off; needing money, he allows his girlfriend, Chantel (Shanna Collins), to earn their keep by working as a streetwalker. Also starring Theresa Russell and James Russo, On the Doll was the first feature film from director Thomas Mignone, who previously distinguished himself making music videos.
Critic Reviews for On the Doll
All Critics (2) | Fresh (1) | Rotten (1)
...hardly packs the profound punch that Mignone is clearly aiming for...

Memorable more for its performances than its plot, this scrappy independent doesn't fade from the mind quickly

Audience Reviews for On the Doll
½
Almost switched it off, but glad I persevered. There are a few too many characters to keep track of, but once you've got it it is not so hard to follow. Most of the characters are damaged teens working either as hookers or strippers and it brushes lightly over the circumstances of their lives which drew them to that line of work. Pretty sad viewing, quite honestly. I felt sorry for all of them. Particularly the girl whose boyfriend was hooking her to buy stuff and the one who was being held to ransom.
Nicki Marie
Super Reviewer
½
Okay, I feel bad saying this, but for a film that wanted to be as shocking as I felt that this one did, it never got gritty or sleazy enough for my tastes if I'm being perfectly honest, and I absolutely despise actresses playing strippers/hookers and refusing to show any skin - it's just not a realistic portrayal in my book. Pass, unless you're just a huge fan of any of the talent involved, and even then it may not be worth your time.
Bill Bryant
½
Meh I really don't know what to say about the movie, I mean it's ok. The subject matter is pretty unique so there's that going for it, but I never really got into the movie for some reason. It just didn't seem to hold my attention, but the movie was alright for what it was.
Jesse Ortega
Super Reviewer
On the Doll Quotes
There are no approved quotes yet for this movie.
Discussion Forum
Discuss On the Doll on our Movie forum!