Quarantine
(2008)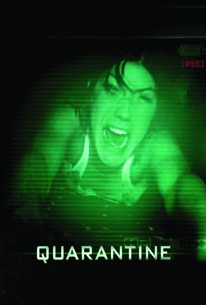 Movie Info
Television reporter Angela Vidal and her cameraman are assigned to spend the night shift with a Los Angeles Fire Station. After a routine 911 call takes them to a small apartment building, they find police officers already on the scene in response to blood curdling screams coming from one of the apartment units. They soon learn that a woman living in the building has been infected by something unknown. After a few of the residents are viciously attacked, they try to escape with the news crew in tow, only to find that the CDC has quarantined the building. Phones, internet, televisions and cell phone access have been cut-off, and officials are not relaying information to those locked inside. When the quarantine is finally lifted, the only evidence of what took place is the news crew's videotape.
People Who Like this movie also like
News & Interviews for Quarantine
Critic Reviews for Quarantine
Audience Reviews for Quarantine
A really great horror film, made apparently just months after the Spanish original Rec. What I don't understand is so many people saying this is not as good? It's almost the same film scene for scene, but with a different cast and set in LA. Only changes from the original are a few more attacks and the origin of the virus was changed slightly. The only real problem if you have seen the original first is you know what is coming and when viewing second time round it's not so scary. Otherwise almost a carbon copy of the original but in English. Watch out for Rec2!
[img]http://images.rottentomatoes.com/images/user/icons/icon13.gif[/img]
Directors Cat
Super Reviewer
Mediocre remake of Rec, which is far superior in every way, Quarantine is a poorly constructed film that uses everything from the original film to create its terror. Like every other horror fan, I have a love / hate relationship with remakes. Some are good, some not so good. Some lack anything that would it interesting viewing, others are pretty good even though they're not all that memorable. With Quarantine we have a remake that just doesn't deliver. The cast aren't that great, many deliver mundane performances, especially Jennifer Carpenter, who unlike her role in Dexter, doesn't do anything interesting with her character. This is yet another pointless remake to a great film. Hell, that sentence seems to be used a lot to describe remakes, but it is very true. Rec was a stunning found footage film, a great piece of horror that brought genuine chills to a franchise obsessed with remaking everything. Quarantine is a mediocre remake at best, the film is a bit entertaining, but as a fan of Rec, I don't think that this film stands out and doesn't deliver the thrills that the original gave its viewers. Quarantine is a film to watch only if you're totally bored. If you want the total effect of a memorable and watchable horror film, then give Rec a view. If you're looking for genuine scares watching this remake, you may be disappointed as the script suffers from the usual jump scares cliché, and in the end it doesn't make Quarantine a worthy film to watch. Add to that a mediocre cast, and you've got another forgettable remake on your hands. Watch Rec instead.
Quarantine Quotes
| | |
| --- | --- |
| Angela Vidal: | They are not gonna come and get us!!! THEY ARE NOT gonna come and get us!!! |
| Angela Vidal: | They are not gonna come and get us! THEY ARE NOT gonna come and get us! |
| | |
| --- | --- |
| Angela Vidal: | THE LIGHT! THE LIGHT! THE LIGHT! |