A Plumm Summer
(2008)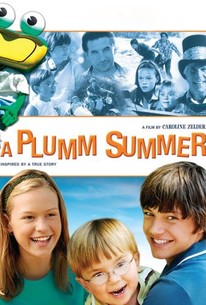 Movie Info
A highly unlikely crime helps bring together two brothers in this nostalgic comedy drama. Rocky Plumm (Owen Pearce) is a five-year-old boy growing up in a small Montana town in the mid-'60s. In Rocky's eyes, there's no star bigger or brighter than local kid's show host Happy Herb (Henry Winkler), who appears on TV weekday afternoons with his puppet friend Froggy Doo. When the Froggy Doo puppet is stolen, Happy Herb's show goes off the air until the doll can be found, which only adds to Rocky's unease as his folks (William Baldwin and Lisa Guerrero) struggle to salvage their clearly failing marriage. Rocky's big brother, Elliott (Chris J. Kelly), isn't especially concerned about Happy Herb's problems or the forced hiatus of Rocky's favorite show, but when Haley (Morgan Flynn), a pretty girl with a yen for detective stories, moves in next door, he suggests they join forces to help find Froggy Doo. Before long, the youthful sleuths find themselves crossing paths with a pair of federal agents (Peter Scolari and Rick Overton) and a growing list of suspects as they follow the thief's trail. A Plumm Summer was the first feature film from writer and director Caroline Zelder.
Rating:
PG (for thematic elements and some mild rude language)
Genre:
, , ,
Directed By:
Written By:
In Theaters:
On DVD:
Runtime:
Studio:
Critic Reviews for A Plumm Summer
Audience Reviews for A Plumm Summer
I'm not sure about the genesis of this film, but I'm wondering if it was intended as an ABC afternoon special. It certainly has that feel. This is a lightweight and vanilla production that gives us nothing of substance to grab onto. It is, however, a warm and fuzzy show that some younger ones will enjoy. It all takes place in a splendid rural Montana town, circa 1960. Mom and Dad Plumm (Lisa Guerrero and Alec Baldwin) and their two sons, teenager Elliot and little Rocky, have their issues to deal with, but relatively speaking things are fairly blissful. Until local TV hero Froggy Doo is kidnapped. Hey, I tried to warn you. Taking the shape of one Elliot's Hardy Boys books, the two Plumm brothers, with the help of Elliot's new heartthrob Haley, set off to solve the mystery. It should be noted that this is probably an excellent film for a young family to enjoy together. Aside from Mr. Plumm's drinking problem, there's nothing to shield your kids from if that is what you are usually prone to do. But you might want to dump some shots in your hot chocolate for yourself to help you get through this.
Mark Burns
[color=#ff9900][font=Arial','sans-serif][size=2]:rotten: :rotten: (out of four)[/size][/font][/color] [color=#ff9900][font=Arial','sans-serif][size=2]Earnest, but forgettable family film that benefits from nice scenery, but is hurt by an amateurish screenplay. [/size][/font][/color] [font=Arial][/font] [color=#ff9900][font=Arial','sans-serif][size=2]The Plumm's are a Montana family in 1968. Life is slow and far away from the troubles in other parts of the country. The biggest thing is the kiddie show featuring the puppet Froggy Doo. When the puppet is kidnapped the local kids come to the rescue, investigating the disappearance.[/size][/font][/color] [color=#ff9900][font=Arial','sans-serif][size=2]While not a terrible movie, there is just nothing special about it. It is nicely photographed, but the script is lacking in develoment.[/size][/font][/color] [img]http://i12.photobucket.com/albums/a219/hstngs2000/Plumm.jpg[/img]
Steve Smith
This might be palatable if it weren't also fraught with leaden direction and horrible acting -- it's a painful thing when William Baldwin's the best actor you've got.
Lee Mayo
A Plumm Summer Quotes
There are no approved quotes yet for this movie.
Discussion Forum
Discuss A Plumm Summer on our Movie forum!