La Roue (La Rose du rail) (The Wheel)
(1923)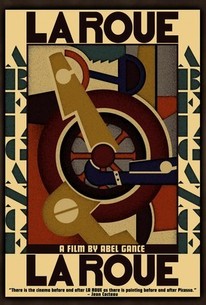 Movie Info
Sisif (Severin-Mars) is the kindly railroad engineer who adopts the orphan girl Norma (Ivy Close). He raises her as his own along with his son Elie (Pierre Magnier). When they are grown, Elie and Herson (Gabriele de Gravvone) are compelled to fight to the death on a mountain top over the love of Norma. Elie dies when he falls after losing his grip on a tree branch, and Norma is turned out by Sisif who blames her for the death of his only son. She marries Herson but is left a widow within the year. Sisif becomes a blind recluse and visits the sight of his son's death on the one-year anniversary. He arrives with the help of his guide dog. Norma returns to help Sisif but is again turned away by the bitter father. She secretly helps the old man until he dies in this sentimental melodrama. ~ Dan Pavlides, Rovi
Rating:
PG
Genre:
, ,
Directed By:
In Theaters:
On DVD:
Runtime:
Critic Reviews for La Roue (La Rose du rail) (The Wheel)
Audience Reviews for La Roue (La Rose du rail) (The Wheel)
½
I forced myself to watch this, due to its important place in film history, and was dreading the 4 1/2 hours of viewing to come. However, I was quite surprised with how engaged I was throughout. It is slow, melodramatic, and tedious at times - but likewise full of beauty, and washes over the senses like a daydream. It is also quite dark and a bit depressing - but in a poetic & symphonic way. It was a similar experience to listening to compositions by Debussey while gazing out a window as Spring blooms or Autumn falls. I admit that I was annoyed at the continual overwrought expressions made my Sisif (Severin-Mars), and particularly his eye aerobics upon going blind. A touch of subtlety would have been nice. Overall I enjoyed it. I wouldn't want to watch it again - but I'm glad I finally did!
J. Scott Fugate
At times La Roue was exciting yet too many times it drug on without an end in sight. There were some amazing shots and camera work as Abel Gance really brought some new ideas to light. The acting became a bit overdone and Severin-Mars who played the father tried so hard to roll up his eyes to appear blind that it lost its effect on the viewer. La Roue had all of the elements to be a good movie and is a decent movie but at four and a half hours it just drug on way to much. Not for people looking for a good movie but one that film buffs and historians should seek out.
Jonathan Porras
Originally 9 hours? 4 hours and 22 minutes made a long enough melodrama about two pathetic schlubs pining for the same lady. Pioneers some filmmaking techniques, though, so I'm not saying it's a waste of time by any stretch.
Andy Cramer
La Roue (La Rose du rail) (The Wheel) Quotes
There are no approved quotes yet for this movie.