The Chosen One
(2008)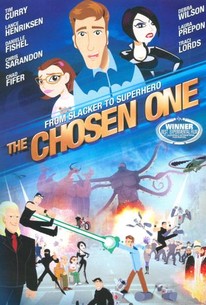 AUDIENCE SCORE
Critic Consensus: No consensus yet.
Movie Info
One hapless everyman's day from hell takes a truly bizarre turn when he's named "The Chosen One" by a bizarre church and blessed with superpowers that will help him save the world from certain destruction. Lou Hanske has just been fired. Not only that, but he's also totaled his car, been attacked by a bear, and been dumped by his beautiful girlfriend Rachel (Laura Prepon) as well. To say that Lou is having a bad day would be an understatement of epic proportions, yet just when it seems that his life has hit rock bottom he's hit with a truly bizarre revelation: a small church has just named Lou "The Chosen One," and now in order to fulfill his prophecy as savior of mankind he must travel to Kansas and usher in a new age of peace and prosperity. Of course that's quite an undertaking for one man to take on all by himself, so in order to succeed in his mission Lou recruits his curmudgeonly roommate Zeb (Chris Sarandon), his smoking hot co-worker Donna (Danielle Fishel), and the Dark Lord himself, Satan (Tim Curry). Along the way, the foursome does battle with ninjas, religious fanatics, kung-fu robots, femme fatales, and giant monsters that could eat them whole. With a little luck and some serious cool superpowers, Lou might prove capable of saving the world and getting the girl of his dreams.
Rating:
NR
Genre:
, , ,
Directed By:
Written By:
In Theaters:
On DVD:
Runtime:
Studio:
Audience Reviews for The Chosen One
Just from looking at the cover of the DVD, I knew that the whole movie would just scream, "I'm Adobe Flash!" The over all animation makes the TV '6 Teen', 'Stoked', and 'Total Drama Island' look like Disney animation. In the beginning, the story was a little iffy, but then nearing towards the end, I was pleasantly surprised that everything was tied to a good lesson. World peace and eternal life would be nice to have, but when you think about it, those to things would take the fun out of living. So over all, I give this 3 1/2 stars. Not a ground breaking masterpiece, but it is a decent watch. Enjoy!
Ashley Williams
So what is the movie 'the Chosen One' like? How is it? Well, upon viewing the completed film some months back I thought it a good adult animated film comedy. But I also thought it was no ordinary animated film comedy: I've been fortunate enough to see the film screened in front of an audience and there was not only genuine laughter throughout the screening, but the audience also seemed to be fully engaged with the characters and the film's unusual story. Now, of course, the newly released DVD is available with the added fun of director Chris Lackey, actor Chad Fifer, and producer Andreas Olavarria all providing some lively commentary together on voice track. I won't give away the details or specifics on the film's unique story here. However, I will write in general that the movie is about lead character Lou Hanske's miserable day which puts him into the hospital, and later sends him on his quest with friends to find answers to the Church of Frank's odd claims that Lou is the Chosen One. Of course, a nefarious group gets word of this and sends their nasty ninjas, rowdy robots, and femme fatales out to try to stop him. The film has a good sense of comic pacing and timing that is utilized well. The Chosen One is done in Flash animation with characters having a 'South Park' and 'Family Guy' type of feel to its style and movements (in looks - I don't mean content). So the animation in the Chosen One looks primitive at times, but people have commented elsewhere online that it actually makes the film funnier to watch. The weak parts where I think the animation and story is not as effective are briefly in some of the film's middle section material when the drama elements begin to emerge in the story. However, the rest of the comedy and other material keep the few weak elements from shadowing the movie, and therefore also keeps the film's strengths and rhythms on track towards the film's strong ending. The Chosen One's screenplay contains sharp comic dialog and some timely gags. I can see why Chris Sarandon, Tim Curry, Tracy Lords, Lance Henriksen, and Daniel Fishel stepped onboard to do the voice acting for this animated flash feature. But the little film also attempts to offer a little more thought to its story and comedy, and I think it does so successfully -- and I suspect most of the lucky audience members that attended the special screening I went to, seeing and experiencing their enthusiastic and engaging response during and after the viewing of the film, would probably concur. ******
Winston Jackson
The Chosen One Quotes
There are no approved quotes yet for this movie.