The Search for John Gissing
(2001)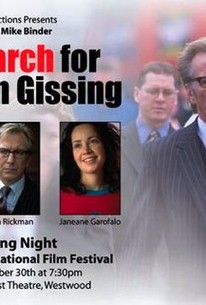 The Search for John Gissing Photos
Movie Info
Alan Rickman and Janeane Garofalo headline writer/director Mike Binder's comedy about an American businessman who is summoned to London under the auspice of overseeing an impending business merger, only to discover that he is actually being groomed to replace his British counterpart - who unfortunately has no intentions of giving up his job. Matthew Barnes (Binder) and his wife (Garofalo) thought they were going to London for a brief business trip, little did they realize Matthew's employer had something a bit more permanent in mind. It seems that the powers that be would like to see Matthew's British counterpart John Gissing (Rickman) fired, and would love for Matthew to step in as his official replacement. But John is no dummy, and he's seen this storm brewing on the horizon for quite some time. Now, instead of stepping down peacefully and allowing the situation to play out as his superiors have planned, John schemes to make the American couple's stay in London as unpleasant as humanly possible by sending them on a series of disastrous and humiliating misadventures.
News & Interviews for The Search for John Gissing
Critic Reviews for The Search for John Gissing
Audience Reviews for The Search for John Gissing
"until you look in the dictionary and look up the word 'Fine' it means were fucked, ok fucked" Hehe Alan Rickman ! I couldnt wait to get this, i imported it from america and even though it cost me loads it was so worth it! It was funny, interesting and alan rickman looked so gorgeous! The story was interesting and funny and really good probably better than what i thought ! It was about mike binder coming from chicago to replace john gissing but becuase john gissing finds out he messes about with him before they finally decide to join each other and fuck with the company! A really good movie written from mike binder and really fun to watch! Worth a watch! especially alan rickman gorgeously brilliant! Alan Rickman at the end of the movie was fantastic at tap dancing, probably the most funniest and cutest thing to watch in my life!
Film Crazy
Super Reviewer
The Search for John Gissing Quotes
There are no approved quotes yet for this movie.