12 Days of Terror
(2004)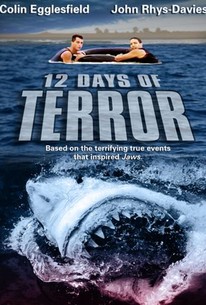 AUDIENCE SCORE
Critic Consensus: No consensus yet.
Movie Info
A vicious shark terrorizes the New Jersey shore in this tale of terror at the beach starring Colin Egglesfield and John Rhys-Davies and based on the actual events that inspired Peter Benchley's Jaws. The year was 1916 and the citizens of New Jersey dared not step in the water for fear of meeting a grim fate in the jaws of a great white shark. For 12 days, the bloodthirsty beast would stalk the normally serine shores of New Jersey awaiting the next victim to tempt fate by taking a swim, and as the most sustained series of shark attacks in recorded history shook an entire community, the power of the perfect predator proved that humankind isn't always at the top of the food chain.
Rating:
PG-13
Genre:
, , , ,
Directed By:
Written By:
On DVD:
Runtime:
Studio:
Orly Adelson Productions
Critic Reviews for 12 Days of Terror
There are no critic reviews yet for 12 Days of Terror. Keep checking Rotten Tomatoes for updates!
Audience Reviews for 12 Days of Terror
Was definitely looking for more of a horror aspect to this early 1900's period piece. Instead we get a poorly acted TV drama (probably made for Shark Week) with weak characterizations and a disgusting lack of effects, unless you consider bloody water to be one. Boring, especially for a shark attack movie.
Don Schick
This is an excellent B shark movie, about 1916 shark attacks along New Jersey Coast. Only fault of the movie, it was filmed in South Africa, no where along Jersey Caost does it look like scenes in the film, but still an interesting story. 4 Stars
Bruce Bruce
Super Reviewer
Tell me if this plot synopsis sounds familiar: An ocean community is shocked when a series of shark attacks plague their waters right around the 4th of July holiday, threatening to impact their summer business. Although the initial victim clearly died due to a shark attack, the coroner poo-poos this idea, claiming any number of things could've caused this swimmer's death. Much discussion ensues about whether the beaches should be closed, but a stubborn mayor refuses to give the order. The consequences are disastrous, because the shark's next victim is a young boy. A reward is soon offered for the shark's death. A marine biologist arrives from out of town to help make sense of the monster's actions, and puts forth the theory that the shark is both a Great White and rogue. Meanwhile, a gruff, cantankerous captain does everything in his power to get rid of the predator, chewing up nearly as much scenery as the shark itself. The final act of the movie is an extended shark hunting sequence, with three men alone on the ocean, in the crazy captain's dilapidated boat. Nope... doesn't ring a bell. It's no secret that Jaws was based (loosely) on the real-life 1916 New Jersey shark attacks, and this made-for-TV film dramatizes the events perfectly. But the movie feels like an "also ran", directed with far less artistry than Spielberg's film, and boasting a much less inspired cast. (Even John Rhys Davies, who plays the Quint-like character here, barely seems to be going through the motions.) It doesn't help that the plot feels old and tired, while Jaws felt new and fresh upon its release. Even some of the dialogue here is virtually recycled from Spielberg's classic... compare 12 Days of Terror's "This boat looks kind of small," to Jaws' "We're gonna need a bigger boat". And the screenplay, co-written by Halloween III's Tommy Lee Wallace, never quite captures the feeling of a community in terror. A few individual people, yes, but not an entire town. Although I greatly enjoyed the 1916 setting, and the warm, slightly sepia tones employed by the cinematographer, I can't really recommend 12 Days of Terror. It's an interesting companion piece to Spielberg's film, but not terribly significant beyond that. (Although the shark looks pretty good.)
Joe Barlow
12 Days of Terror Quotes
There are no approved quotes yet for this movie.
Discussion Forum
Discuss 12 Days of Terror on our Movie forum!