The Night of the White Pants
(2006)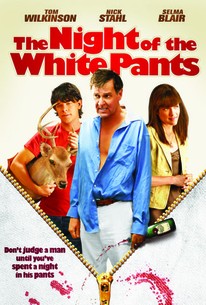 AUDIENCE SCORE
Critic Consensus: No consensus yet.
Movie Info
His life seemingly spiraling out of control with no means of pulling out of the earthbound dive, a Dallas powerbroker follows his daughter's punk rock boyfriend for a wild night of youthful mayhem that may just bring him back around if it doesn't kill him first. There was a time when Max Hagen (Tom Wilkinson) had it all, but somewhere between a heart attack, an impending third divorce, and being kicked out of his lavish mansion by his soon-to-be ex-wife Barbara (Janine Turner), everything fell apart. Now faced with the arduous prospect of pulling himself up by the bootstraps and attempting to re-claim his ever shrinking lot in life, Max finds an unlikely ally in the form of his daughter's renegade boyfriend Raff (Nick Stahl), a free-spirited rock-and-roller who may just hold the key to teaching this old dog a few new tricks.
Rating:
R (for language and drug content)
Genre:
,
Directed By:
Written By:
On DVD:
Runtime:
Studio:
Critic Reviews for The Night of the White Pants
All Critics (3) | Top Critics (1) | Fresh (1) | Rotten (2) | DVD (1)
Dallas Morning News
Top Critic
Dallas native Amy Talkington makes a largely entertaining feature debut with The Night Of The White Pants, a frenetic dysfunctional family comedy.
A comedy without laughs is like a guy in public without pants, just embarrassing for everybody.
Audience Reviews for The Night of the White Pants
½
O.k. This was not a most fantastic movie,or one that will stay in your mind your whole life. However, it will stay in there for meybe quite some years. I just got through watching it, May 12th. 2010 . I have heard about it, very little though, and seen commercials about it. Yet, still had no idea, what it was about. From the name, you figure it has something to do with a pair of pants. Thus, you assume, who ever is,or was wearing those pants, is who the movie is all about. Well, I won't say. You'll have to go see it for yourself. Anyways, a good cast of charecters, all comeing from totally different views, which always helps, plus a little bit of a tie in , with eachother, yet, perhaps unknown to some, while surely known by others. It's not exactly a love story, or a drug film, or a thief type of film,or a story about a rock and roll band, or a guy/girl lost in thier idea of life. Nor, is it a cop movie. Yet, you might see a few of those in there. haha. It's quite a unique story still the same. Told pretty well, not that your wondering what ? , untill the twenty minuttes later part, that you'll almost miss , unless someone tells you, :See !!!.....haha. You'll like this film, because you'll also notice meybe pieces of yourself within some of the peaple in this movie, or meybe you'll just be a friend of a person in the movie, viewing a lot of your friends, past and present. As I said, I wouldn't call this a fantasic movie, yet I wouldn't pass it up either. You'll have your own opinion, of course, yet, you'll never have it, till you see it. Perhaps Jim ,Mario, and Cherryl couldn't quite understand where exactly the charecters were comeing from, or where they had been, and where they wish to go ? They say it was all too boreing, not worth seeing. Well, if you like some t.v. drama's, with just a tiny spark of comedy, then this is for you. Obviously, they didn't see the comical twists in the various scenes, because a few were well hidden, but you had to just catch them. Mark
Mark Vaughn
It takes a little longer than I would have liked for it to get interesting, but it is still a funny misadventure.
Sarah Helwig
½
Fun, silly, and kind of weird. Tom Wilkinson is great in a much goofier role than what I'm used to seeing from him.
Holly Danto
The Night of the White Pants Quotes
There are no approved quotes yet for this movie.
Discussion Forum
Discuss The Night of the White Pants on our Movie forum!