Dog Gone
(2008)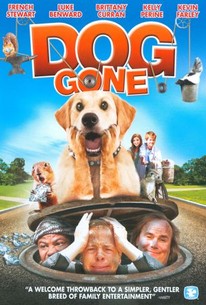 AUDIENCE SCORE
Critic Consensus: No consensus yet.
Movie Info
A 12-year-old boy with a tricked-out mountaintop fort attempts to foil three bumbling jewel thieves in search of a valuable dog collar in this fast-paced family comedy that's fun for parents and children alike. Wherever there are valuable jewels, notorious stone stealer Jackie Seemore is sure to be close by. On the heels of his latest heist, Jackie has disguised himself as a blind nun and is about to be picked up at Cedarville Airport by his two dimwitted assistants, Bud and Arty. Led through the airport by a Seeing Eye dog with an especially luminous collar, Jackie has donned a false veneer that is so effective even his most trusted sidekicks don't recognize him. Later, when the villainous trio pulls into a nearby rest stop to clean up, they have a chance run in with precocious adolescent Owen. Recognizing that the dog is unhappy being teased by Bud and Arty, Owen befriends the tormented animal -- which subsequently escapes into the nearby woods. Upon finding the frightened dog, Owen brings her to his secret hideout that was built upon a nearby mountaintop and fortified with booby-traps to keep away the local bullies. But Owen isn't the only person who resides on this mountaintop, because according to local legend a frightful old man deemed "The Madman of the Mountain" resides somewhere on this formidable hill as well. Naming the dog "Diamond" for her sparkling collar, the brave young boy vows to defend her from Jackie and his henchmen at all costs.
Audience Reviews for Dog Gone
I could only get through the first half hour. Kids' movie? Okay, but their are so many good kids'movies out there that is not an excuse for bad acting, weak script cheasy animation, etc...
Rick LeBlanc
This is one of the worst Direct-To-Video Dog Movies Ever. The CGI is so crud-worthy. Thank god I stopped at Part 1 before there is more permament brain damage to me....
Rebecca Clark
Dog Gone Quotes
There are no approved quotes yet for this movie.
Discussion Forum
Discuss Dog Gone on our Movie forum!