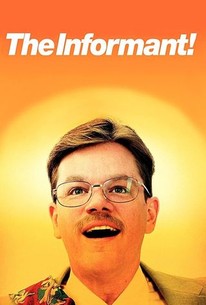 The Informant!
2009, Comedy/Drama, 1h 48m
231 Reviews
250,000+ Ratings
What to know
critics consensus
A charismatic turn by star Matt Damon and a consistently ironic tone boost this quietly funny satire about a corporate whistle-blower. Read critic reviews
Where to watch
Rent/buy
Rent/buy
Rent/buy
Rate And Review
Movie Info
Though a rising star in the ranks of Archer Daniels Midland, Mark Whitacre (Matt Damon) suddenly exposes a price-fixing conspiracy to the FBI, agreeing to wear a wire and gather evidence against ADM and other agribusinesses. However, the FBI agents get a rude surprise when they learn that Whitacre has embezzled heavily from the firm.
News & Interviews for The Informant!
Audience Reviews for The Informant!
Entertaining semi-accurate real-life portrayal of an educated bipolar personality with mixed-up perceptions with an improper use of a cute soundtrack that instead of representing the intended irony in the story, distracted the viewer from the more serious tone the film should have acquired. Yet, Matt Damon deserves credit for a fun performance. 55/100

Fatt Damon! There, I said it; but hey, it doesn't make him any less charismatic. In fact, I think it might make him more charismatic, because he's so charming, that he actually made a Steven Soderbergh not that dull, and that's quite the accomplishment, and really makes me think that maybe it wasn't George Clooney and Brad Pitt that made the Danny Ocean films fun, but just Damon being there, so I guess you could say that Soderbergh can only be either boring or... Bourne. Yeah, I know it stinks, but come on, Damon is like the Nega-Bourne in this film, so I have to continue my streak of Jason Bourne films. Hey, if you think that it's bad now, just wait until I actually see the "Bourne" Trilogy; but until then, let's talk about this overweight, overly quiet, when not overly annoying guy that overthinks too much. Well, let me start by saying that I really enjoyed this biopic on me, even if it did take the liberty of making me seem like an effective whistle-blower, when really, I don't have enough people actually looking up my stuff for me to make a difference. No, I know this isn't a biopic on me, partially because I'm not nearly as charming at Mr. Damon; and yet, as much as I praise him for his charisma picking this film up, it's not enough to make this film entirely exciting. Now, the film isn't nearly as tedious - yes, "tedious" - as your usual Soderbergh film, but it is slow; and while that slowness is at its worst early on, and not even strong enough to drown out a certain degree of entertainment, even then, it's consistently present throughout the film. Something else that's at its worst early on, yet still consistent is repetition. It isn't repetative in the same way that some overlong indie films are repetative, where it's one familiar thing after another, coming in to intensify dullness, but more repetative in the way this review is repetative, where I'm just putting the same thing on a loop, padding things out, and while it's not tedious, you're bound to lose engagement, only to be pulled back in by a few decent jokes. ...Okay, so I don't have one now, but just wait, and I'll have another mildly amusing joke for you. Alright, so this film has more comic relief than this review, but even then, that's a bit of a problem, because that kind of comic relief and style is perhaps too constant and feels rather gratuitous, partially because it's a '70s theme style over a '90s timeline. The style adds enough uniqueness to the film to keep it from feeling either too familiar, or too underwhelming, but not only is it a touch overdone, but it doesn't fully fit. Still, now matter how problematic the film's style, it's still sharp, and is among the several elements that help greatly in making the film one of Soderbergh's more entertaining little experiments. As unfitting as the '70s theme style seems, it's still charmingly flashy and used in a fashion that's rather inventive, giving a rather vivid quality to the cinematography, which is, of course - seeing as it's Soderbergh, or "Peter Andrews", if you will -, pretty darn handsome. Another element that supports the '70s theme style, but is enjoyable by its own right, is the score, which really captures the casual aspects of the '70s era in which this film does not take place (it wasn't all amazing rock songs on a level of quality that we can never hope to touch again) in an entertainingly quirky fashion, yet is surprisingly more diverse than I expected. A lot of the tracks are so refreshing and neat, yet keep up the consistently quirky tone, and help in making the film lively, even if it doesn't fit the timeline. Of course, the score comes and goes, but we will always have Matt Damon and the guy that ate him. Yeah, I know the joke's a bomb, but darn it, I promised y'all a joke to break up the dullness in this review, so just run with it. If you want a real example of someone doing a sharp job at breaking up slowness, then stop reading this review and actually watch the film, because whether it's the jolly gut he put on or just him being so lovably cheesy, Damon is bringing in some extra sharp charisma, especially when we here his thoughts, which is too often, but it never gets old, because he's so charming that the style seems both eccentric and down-to-earth; but come the second big twist in the second half, things get more serious, and while we still have the voice-over to break tension, Mark Whitacre is definately in some deep trouble, and Damon adapts quickly and really pulls off what his character's going through. He's not delivering a particularly excellent performance, but Damon carries this film with strong emotion, when he's not carrying the film with charm. In conclusion, Steven Soderbergh can't seem to make a film without at least a couple of slow spots, and sure enough, this film hits its slow notes, as well as some repetition, but what is always there is the overdone and too anachronistic-feeling '70s-theme-over-'90s-timeline style; and yet it's that exact refreshing form of flashy stylizing that keeps the film lively, but what carries it the most is leading man, Matt Damon, who's eventually layered, but always charming performance leaves "The Informant!" to stand as a generally entertaining satirical portrait on Mark Whitacre's rise to heroism and subsequential fall from grace. 3/5 - Good

Steven Soderbergh's satire The Informant! tracks the story of corporate whistleblower, Mark Whitacre. Based upon the 2000 non-fiction novel of the same name, one may expect a thriller more resembling Michael Clayton or The Conversation than a corporate Dr. Strangelove. The form may seem inappropiate, but darker stories have been played for laughs, (Nuclear holocaust isn't exactly a knee slapper). This tongue in cheek perspective is well balanced with the acknowledgment that what we are talking about involves very serious corporate crime, and one man's fragile mental state. But Damon and Soderbergh somehow manage to wring plenty of dark laughs out of a very serious story. Mr. Whitacre is a chemist at Archer Daniels Midland, a big name corn manufacturer. After claiming that a Japanese competitor has implanted a mole within the business, Whitacre is questioned by the FBI. After being forced to lie by his bosses, Mark wants to atone for his crimes, and leaks information about a lysine price-fixing scheme. He becomes the F.B.I.'s inside man giving evidence that they need to make thier case, but they get the feeling that all is not what it seems. As lies pile on lies Whiteacre finds that he is way over his head, zigging and zagging looking for a way out of this mess. Damon perfectly plays a man who seems to have no connection with the truth, and with no moral fiber. While he's lying to his bosses and the FBI, all he can think about is wool clothing, or the metric system. But this is not a sociopath of Lecter level intelligence. Mark is a bumbling buffoon, constantly attempting to evade all that contradicts the world that exists inside his head. Matt Damon is very funny here, but he isn't a total clown. There is a real humanity and desperation that's conveyed when everything is crashing around Mark Whiteacre. It's a shame that this performance didn't get the attention it deserved.

Hilariously ironic tale about the most famous whistleblower in history, Mark Whitacre. Steven Soderbergh has some flawless direction, as usual, and Matt Damon is very funny in his role.
See Details