Chi to hone (Blood and Bones)
(2004)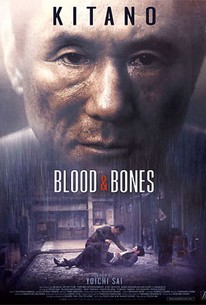 AUDIENCE SCORE
Critic Consensus: No consensus yet.
Movie Info
Yoichi Sai directs Takeshi "Beat" Kitano in this adaptation of the popular Yang Seok-il novel concerning a violent, ruthless family patriarch whose obsession for money destroys all that surrounds him. In 1923, Kim Shun-pei left his home on a remote island south of Korea in order to seek out his fortune in Osaka, Japan. Upon arriving in Japan, Shun-pei faced relentless discrimination while forced to work hard labor under excruciating conditions. Despite the fact that the odds were stacked against him, however, Shun-pei eventually opened a Kamaboko (steamed fish cake) factory using nothing more than his remarkable personal strength and staunch determination. Shun-pei was a cunning and ruthless businessman, and his incredible tyranny extended to his personal life as well. Yet while Shun-pei's obsession with money was the very reason he eventually found success, it would also be his ultimate downfall. Later, as money and the constant quest for wealth overtook every aspect of his life, Shun-pei transforms himself into a vicious loan shark. ~ Jason Buchanan, Rovi
Audience Reviews for Chi to hone (Blood and Bones)
Interesting to see depiction of Koreans in Japan as a way to establish a context and setting. Kitano's shocking brutality is shown in the first scene and builds from there. Takeshi Kitano is one of the most interesting actors to watch. He's so quirky and eccentric that he brings a great deal of excitement on screen. He plays Kim Shunpei, a vicious man in his business and his personal life. He treats his wife, like she herself describes, as a "slave". He is quite simply heartless, showing no affection to anyone, his works or even his head. At first he starts a fishcake business, then it's success allows him to become a money lender. He soon suffers some personal setbacks, and gives his fishcake business up committing himself to his moneylending business in the same ruthlessness... The film gets very appalling and disturbing but never cliched. After the half way mark, the film loses some focus but remains interesting to watch. Near the end, it gets a little carried away with details of Kim's life and drags a little. Nonetheless, this is a powerful and unique film which is sure to have some effect on any person that watches it.
½
I couldn't help but think of Citizen Kane while watching writer/director Yoichi Sai's Blood and Bones. I'm not saying that Blood and Bones is in the same league as Citizen Kane, but both films feature very similar lead characters. Both films are about two tough as nails businessmen who have spent their entire lives chasing money, doing shrewd business practices and stepping on anyone and everyone they can to make sure they are on top. The only difference is that Sai's film doesn't have any redemption to it, but rather a dark look into one of the most horrible, but fascinating, movie characters. Sai's film was originally intended to start production sooner than it did, but its star Takeshi Kitano kept having scheduling conflicts. Sai never wanted anyone else to play the difficult role of Kim Shun-Pei, a Korean man who immigrates to Osaka, Japan as a teenager in 1923, than Takeshi Kitano. And after seeing the film, I doubt any other actor could have done what Kitano does in this film. Takeshi Kitano is a favorite actor of mine, and he is mostly recognized by American audiences by his 2003 version of Zatoichi and playing the teacher in the brutal cult classic Battle Royale. He puts a lot of work into the role of Kim Shun-Pei, and has created one of the most dynamic performances of his career. Shun-Pei is a complicated character, and one with no redeeming qualities to him. He is abusive to his family/friends, rapes his wife, treats his workers like crap and has numerous mistresses. Any attempt by family or friends to try and change his ways go wasted, and typically these people end up on the losing side of an ass-whooping. Kitano perfectly brings this ugly character to life, with an extraordinary level of physicality and furor. The movie has a great style to it, but never becomes overly stylized. There is a lot of violence in the film, but none of it is exciting to watch. The very first fight sequence, where Shun-Pei fights one of his bastard sons, is brutal and raw. You aren't entertained by what you are seeing, but rather in shock at what is happening. You really begin to feel like one of the many people in the film who have the misfortune of having this dreadful man in their lives. Blood and Bones isn't a perfect film, and it tends to drag on at times. And this isn't a film that will work for everyone. But I think out of the sheer powerful performance delivered by Takashi Kitano, Blood and Bones is worth a look. It is an unusual character study, especially since the central character learns nothing from his mistakes and never changes beyond his own selfish ways.
Bryan Gomez
Director Yoichi Sai and star Takeshi Kitano have produced something very heavy. Kitano gives another amazing performance, one that must have been quite an ordeal for a sane man to portray. I can't say this is a pleasurable experience, but it is certainly a moving one that leaves you feeling rather numb. The film does go beyond only being about the central character, Kim. It also presents a detailed recreation of a time during rising Japanese militancy, the situation of ethnic Koreans in Japan, the effects of the post war collapse and much more, all told from a unique perspective; inside the culture enough to speak of it but also outside enough to be openly critical. It also shows, in detail, the ongoing generational consequences of family violence.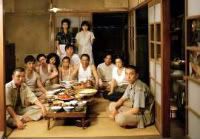 El Hombre Invisible
Super Reviewer
Chi to hone (Blood and Bones) Quotes
There are no approved quotes yet for this movie.
Discussion Forum
Discuss Chi to hone (Blood and Bones) on our Movie forum!