Dead Air
(2009)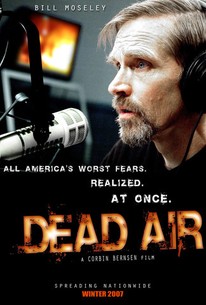 AUDIENCE SCORE
Critic Consensus: No consensus yet.
Movie Info
The story revolves around a radio show team attempting to warn its listeners after a huge explosion turns zombies on the loose in L.A.
Rating:
NR
Genre:
, ,
Directed By:
Written By:
In Theaters:
On DVD:
Runtime:
Audience Reviews for Dead Air
Low-budget but well executed 28 Days Later-school zombie flick. This time, a rage-like virus used as a bioweapon in a terrorist attack and a shock-jock who carries on a personal battle AGAINST conspiracy nuts struggles both to keep his listeners informed and make sure his family is safe. Bill Moseley is excellent in the lead and the supporting cast is solid as well. There are strong, perhaps sometimes heavy handed, social and political commentaries as well, particularly when Moseley finds himself face-to-face with one of the terrorists. A few nice twists, fair gore that doesn't go over the top, and some decent suspense. One of the better films in its vein; there's more here than just another zombie horror knockoff. Well worth a viewing.
Brian Seitzman
When you set a movie in a location it says a lot when your plot seems to avoid the characters using that location. As a radio station the cast spend more time away from broadcasting and advocating the TV as a better source of info to their audience than doing their job. It's a shambles of poor plotting that detracts from any impact or believability in the characters who do the most inane things to move the plot forward. Don't waste your time and view Pontypool for the same idea done with a hundredfold integrity or Talk Radio for how a radio station actually works.
Mark Nash
What starts out promising turn into a really shame of a movie. A cross between 28 weeks later and Pontypool with a terrorist threat theme to add. I had no problem with the set up, mostly takes place at a late night radio station where you heard the events unfold (just like Pontypool) and bleeding from the eyes zombies that run (28 weeks later) but you do get glimpses of what is going on to in the city too. I found the acting quit hammy and I did?nt like bill moseley performance at all! Beside that there are some nice gore scenes and some good scares but with a low budget you don?t get the sense of dread that there trying to pull off. I give it 3 stars for the effort but it?s really a 2 star show.
Brian De Guelle
Super Reviewer
Discussion Forum
Discuss Dead Air on our Movie forum!