Dead Air
(2009)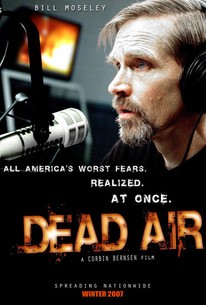 AUDIENCE SCORE
Critic Consensus: No consensus yet.
Movie Info
The story revolves around a radio show team attempting to warn its listeners after a huge explosion turns zombies on the loose in L.A.
Critic Reviews for Dead Air
Audience Reviews for Dead Air
Not bad...interesting idea, but it's executed rather clumsily. The audience is kept in the dark for duration of the film, which really works well early on, since the audience can relate to what the characters are going through. However, the explanation offered about the virus is vague and pathetic...just because you can build suspense with lack of information doesn't mean that you don't owe the audience answers by the end of the film. Questions should be answered, and not in a halfassed manner, which is what this film does the few times it actually attempts to give the audience answers.
Stephen Skudlarek
Super Reviewer
Actor Corbin Bernsen brings together Bill Mosley and Patricia Tallman who worked together previously on the remake of Night of the Living Dead. Seeing them together again on film is pretty cool i have to admit, but this is nothing like the Night of the Living Dead remake. This movie is really, really bad. Mosley is the best actor in the film and that's not saying much, this movie uses really little of the Zombie lore and preys much more on Post 9/11 fear. The acting of the "Zombies" in this film is horrible, they just move like they are really stoned. I don't like the political overtones in this either, and usually I'm a sucker for the overtones. This movie just didn't make much sense to me and seemed uber stupid. I cant write much about it because i didn't enjoy it that much, all in all i would have to give this a 2 of 10. Try again later, Corbin Bernsen, or just stick to Psych on USA. Paranoia! Sid
Brandon Siddall
Super Reviewer
What starts out promising turn into a really shame of a movie. A cross between 28 weeks later and Pontypool with a terrorist threat theme to add. I had no problem with the set up, mostly takes place at a late night radio station where you heard the events unfold (just like Pontypool) and bleeding from the eyes zombies that run (28 weeks later) but you do get glimpses of what is going on to in the city too. I found the acting quit hammy and I did?nt like bill moseley performance at all! Beside that there are some nice gore scenes and some good scares but with a low budget you don?t get the sense of dread that there trying to pull off. I give it 3 stars for the effort but it?s really a 2 star show.
Brian De Guelle
Super Reviewer
Dead Air Quotes
There are no approved quotes yet for this movie.