The Chant of Jimmie Blacksmith
(1978)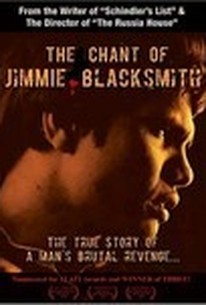 Movie Info
Based on a novel by Thomas Keneally, which was in turn inspired by actual events, this drama is a shocking indictment of the racism inflicted on the indigenous people of Australia. Jimmie (Tommy Lewis) is a half-white, half-aborigine young man raised by a Methodist minister. Feeling outcast among the aborigines, Jimmie moves to the city and gets a job working for a white family. When a white serving girl at the estate becomes pregnant, everyone is convinced that Jimmie is the father; to spare the girl's honor, Jimmie marries her and is allowed to live with her on the estate. But after the child is born, everyone realizes that the father was a white man, not Jimmie; he is still willing to accept the child and stand beside his wife, but his employers now feel that he married a white girl under false pretenses, and they bar him from the estate. Forbidden to see his wife and fired without receiving his pay, Jimmie finally explodes in a fury of violent revenge. Director Fred Schepisi's original cut of this film runs 122 minutes, though it was more widely distributed in a shortened version running 108 minutes. ~ Mark Deming, Rovi
Rating:
R
Genre:
Directed By:
Written By:
In Theaters:
On DVD:
Runtime:
Critic Reviews for The Chant of Jimmie Blacksmith
Audience Reviews for The Chant of Jimmie Blacksmith
½
I've only seen this movie once, getting on for 25 years ago, late one night on BBC2, back when dedicated movie channels were in their infancy and the BBC still cared about its film programming. One of the regrettable byproducts of avid film viewing is a certain desensitisation to violence; we'll unflinchingly watch the most harrowing of scenes without being put off our popcorn. The brain-searing power of Fred Schepisi's second feature, however, has never left me, and I don't imagine it ever will. The story concerns a young Aboriginal boy, so dehumanised by white colonialism that he lashes out, commits an act of brutal savagery and goes on the run. While Schepisi certainly sympathises with his central character, I don't remember him seeking to excuse Jimmie's actions, and nobody could accuse him of pulling his punches in depicting the crime itself. A superb film. See it if you get the chance.
Not easy to watch, once the action gets started. But based on true events, therefore not without cause. I keep thinking I'll run out of movies with naked people in them so I can maybe watch one with family members, but NOOOOO.
Andy Cramer
Discussion Forum
Discuss The Chant of Jimmie Blacksmith on our Movie forum!