Eskalofrío (Shiver)
(2008)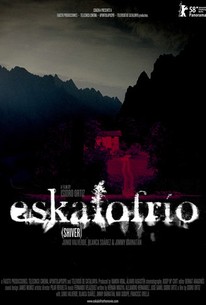 AUDIENCE SCORE
Critic Consensus: No consensus yet.
Eskalofrío (Shiver) Photos
Movie Info
A teenage boy who suffers from acute sensitivity to sunlight becomes the prime suspect in a horrific murder case after moving to a small village located in the mountainous region of northern Spain. Santi is a 16-year-old boy who lives in Barcelona with his mother, Julia. But while most folks who live in Barcelona love to bask in the golden rays of the sun, Santi has a rare genetic disease that causes him to suffer severe sunburn and eye irritation within minutes of exposure to ultraviolet light. Ideally, Santi would like to move to the shadowed town of Laponia in northern Sweden, but funds are tight and his mother cannot afford to make such a move. After a heartfelt discussion between mother and son, Julia agrees to move to Arrozas de Valdeon -- a remote village shaded by the high mountains on all sides. But strange things are happening in Arrozas de Valdeon; animals are disappearing, and rumors are circulating that something in the woods is responsible. One day, Santi witnesses the killing of a young boy. No one else was around at the time the murder occurred, making Santi the prime suspect in the eyes of the villagers. In order to avoid any further problems, local policeman Antonio asks Julia to keep an especially tight leash on Santi as an investigation gets under way. But Santi is determined to prove his innocence, and after making friends with a local girl named Angela, the pair sets out to locate the mysterious creature rumored to stalk the local woods. What Santi and Angela discover over the course of their investigation can only be described as tragic. ~ Jason Buchanan, Rovi
Critic Reviews for Eskalofrío (Shiver)
All Critics (3) | Fresh (3) | Rotten (0)
a well-made coming-of-age thriller that, for at least its first half, will have viewers suitably mystified and unnerved - even if they are somewhat less wild about the dénouement.
October 19, 2011
Worth catching but not worth writing home to mother about.
Shiver is shot beautifully, though, and director Ortiz never lets the plot slow down once it picks up speed. It's not a bad film by any stretch of the imagination, but it's not anything you'll be talking about for very long afterward.
Audience Reviews for Eskalofrío (Shiver)
While this film certainly isn't bad, it didn't really blow my mind either. The movie, visually, is excellent. It has the right setting and the right mood but the rest of the movie just isn't that interesting. I think it moves insanely slow and while it has the right setting, there's never any real tension to any of the "scares". And once the movie picks up it does get slightly better but not enough to make it worth recommending. It was just missing something. The acting, for the most part, isn't as bad as most horror movies though Junior Valverde, who played Santi, had some really bad scenes here and there. And there's also the issue of Santi's physical reaction to the sunlight and its complete and utter uselessness to the movie. Sure his problems with being exposed to sunlight was the impetus for them to move, but it's not like it was the only way you could've had the characters move. Just have him be bullied, which he already was to begin with, and the mother make a suggestion that maybe moving to a small town would help. It really has no impact on the rest of the movie, so it just feels like a completely pointless and unnecessary plot device. The end with the little girl *SPOILER* growling at the camera was also pretty hilariously bad. So yea, this movie is OK at best but I definitely wouldn't recommend it.
Jesse Ortega
Super Reviewer
I really can't voice my complaints without ruining the thing but let me just say it's a silly premise with a wuss for the hero and a completely ineffective antagonist.
A.D. Villarreal
Super Reviewer
½
Shiver is shot beautifully.The film is very effective when it comes to tension,suspense & atmosphere.This is one of those films that keeps you guessing for awhile,i had no idea of what was going on & what was the thing hidden through the bushes & running in the woods,which was attacking animals & people.When things get unfold,it gives you an idea about what's going on.A very suspenseful horror film,with an interesting plot & good performances.Wasn't feeling the conclusion & the mystery of the kid's disease was left unclear. It bit disappointed of how things turn out.
Eskalofrío (Shiver) Quotes
There are no approved quotes yet for this movie.