David & Fatima
(2008)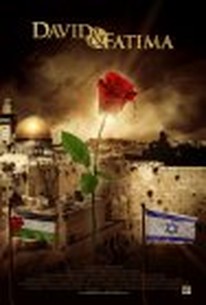 AUDIENCE SCORE
Critic Consensus: No consensus yet.
Movie Info
A forbidden romance threatens deadly consequences for a young Israeli Jew and a beautiful Palestinian Muslim who risk their lives and defy their families by eloping in a land where their union will be doomed from the moment they wed. Jerusalem is in crisis; while Jews, Arabs, and Christians live side by side in this sacred city, few of them ever intermingle, much less attempt to pursue any kind of meaningful dialogue with one another. Tradition runs deep here, and to go against that could mean death. But for a young Jew named David and a pretty Palestinian named Fatima, the world simply isn't as black and white as some folks would like to think. They know that they must work to keep their romance a secret from their families, and when the truth gets out their love is at risk of being lost forever. But David and Fatima are willing to risk it all in the name of love, and soon make the decision to elope rather than let their lives be dictated by the laws of the land. Neither has any doubt that their decision could bring about deadly results, but both realize that a love this strong is simply much too powerful to ever be denied.
Rating:
R (for language, some violence and brief sexuality)
Genre:
,
Directed By:
Written By:
In Theaters:
Runtime:
Studio:
Audience Reviews for David & Fatima
Cancel your plans tonight and head down to 2nd Street in Santa Monica to [url="http://www.google.com/movies?hl=en&near=168+N+Clark+Dr,+Beverly+Hills,+CA+90211&dq=david+and+fatima&tid=f85a2d74e6dd64f0&sa=X&oi=showtimes&ct=theater-link&cd=1"][u][color=#800080]Laemmle's Monica Fourplex[/color][/u][/url]. [b][size=4]Go check out [color=#990000]David and Fatima[/color].[/size][/b] [b][size=4][/size][/b] [size=2]I have to be honest. A friend of mine has a lead role in this film. After two weeks in the theater I finally got off my butt to go see it. Now listen, I have a lot of friends who are trying to make it in Hollywood and I always try to be a good sport and go to their screenings and so on. That's what friends do, right?? But you know how it goes with independent film.... either the sound is bad, or the acting sucks, or the picture looks like it was filmed on your dad's old VHS camcorder from 1991, or whatever. You know what I mean, right? Needless to say, I had very low expectations when I drove out to Santa Monica last night.[/size] [size=2][/size] [size=2]Well let me tell you... [b]I was blown away! [/b][/size] [size=2][/size] [size=2]David and Fatima is basically a modern day Romeo and Juliet story. It takes place in Jerusalem and tells the story of a Jewish boy and an Arab girl who fall in love. [u]ATTENTION:[/u] THOSE OF YOU WHO KNOW ME KNOW THAT I WOULD NEVER IN A MILLION YEARS PICK A MOVIE LIKE THIS. Sign me up for Indiana Jones, Fight Club, 40-Year Old Virgin..... but Romeo and Juliet?? Politics?? Jerusalem???? Forget it. I only saw this film to support my friend. [b]But the movie was so good I want you to see it too![/b][/size] [b][size=2][/size][/b] [size=2][b]It has the look, feel, and pacing of any big budget feature.[/b] Danielle Pollack is smoking hot as Fatima. i WAS TOTALLY WRAPPED UP IN THE STORY AND THE CHARACTERS FROM BEGINNING TO END.[b] You will love this film, but you have to go see it right away! It's only scheduled for 2 more weeks in LA before it goes to New York![/b][/size] [b][size=2][/size][/b] [size=2]Thanks in advance for taking the time to check this out. Just so you know, I'm not an investor in the film and I'm not linked to it in any way (other than my friend Anthony plays Fatima's father). It's just really nice to see quality independent product and I want to support it. [/size] [size=2][/size] [size=2]The last indie film I saw in limited release that I thought had some legs turned out to be Napolean Dynamite. It was word-of-mouth that helped that one along and got it nationwide. Please check this one out and make sure you tell a friend about it. Cheers![/size] [size=2][/size] [size=2]-D9[/size]
Noel Graham
David & Fatima Quotes
There are no approved quotes yet for this movie.