Moon to (Protégé)
(2007)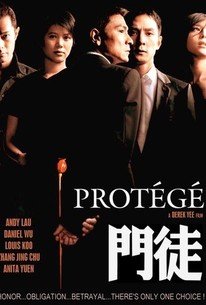 AUDIENCE SCORE
Critic Consensus: No consensus yet.
Movie Info
One Night in Mongkok director Derek Yee takes a trip into the underworld with this crime drama starring Andy Lau, Lewis Koo, Daniel Wu, and Anita Yuen. An undercover cop infiltrates a major heroin ring, skillfully ascending the ranks from low-level dealer to middle management. After falling for a beautiful addict, the policeman is hand picked by the ailing crime boss to take over the entire syndicate once he's gone. His priorities blurred by an infernal combination of money, power, and seven years undercover, the cop chosen to clean up the streets finds his true identity gradually slipping away as a malevolent new persona begins to take hold.
Critic Reviews for Moon to (Protégé)
Audience Reviews for Moon to (Protégé)
½
A long term, deep cover cop insinuates himself into the life of a drug baron who takes him under his wing and grooms him to become his successor. Very much in the Infernal Affairs school of HK cop dramas, Protege also clearly has parallels with the likes of Blow, Traffic and especially Donnie Brasco. Daniel Wu and Andy Lau both put in solid performances as the two leads, but the humourless approach means that the likeability and vulnerability of the characters of Brasco is missing, instead making for a rather dry and sterile examination of the drugs industry, at least in comparison. The emotional content is confined to a subplot involving a junkie single mother and her young daughter which feels just a little too soapy and manipulative. Having said all that, it's still a very well made and intelligent thriller that at least tries to make a non-judgemental stand where it comes to the subject matter. The biggest problem is that it's a bit like sleeping with a high class hooker; it may be nice to look at and very efficient and professional, but it lacks the kind of personality and quirks that make you fall in love.
A well made and very interesting look at the heroin drug trade in present day Hong Kong seen through the eyes of an undercover agent who's infiltrated one of the biggest drug dealing gangs in the country run by Lin Quin (Andy Lau). It's gritty and pulls no punches and is quite insightful with it's depictions of the production and distribution of the drug. The effects of the heroin drug is also touched upon with the opening scene of a female drug addict and her daughter being particularly disturbing. Deserved all its award nominations back in Hong Kong, but it's a film that deserves to be watched by all.
A pretty good movie about cops and drugs... Even it's not as good as Infernal Affairs, but it just do well... The cast were amazing... Daniel Wu, Andy Lau, Louis Koo, Anita Yuen, and Zhang Jingchu, they're all played amazingly... Especially Andy Lau, he's get better and better... Daniel Wu was good for the leading man of this movie, but I thought he can do a lot better... And the ending, well I predicted it before so it's no a real surprise but nice try anyway... Maybe if the story is rework, then this movie will become excellent story...
Sanjaya 丘耀文
Super Reviewer
Moon to (Protégé) Quotes
There are no approved quotes yet for this movie.