The Man Who Came Back
(2008)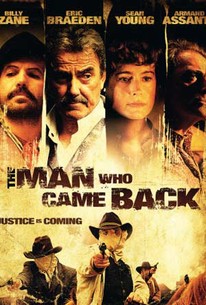 AUDIENCE SCORE
Critic Consensus: No consensus yet.
The Man Who Came Back Photos
Movie Info
Eric Braeden, Billy Zane, and Sean Young headline this traditional western about one man who stood tall against injustice in a time when corruption corroded the souls of once-decent men. His family slaughtered before his very eyes, plantation supervisor Reese Paxton (Braeden) is subsequently convicted of the crime by Judge Duke (Kennedy) and his sadistic son Billy (James Patrick Stuart) - the very men responsible for carrying out the diabolical deed. But the Dukes never expected that Paxton would return one fateful day to seek justice. When he does, not even the most powerful men in the county will be able to escape his undying wrath.
Rating:
R
Genre:
, ,
Directed By:
In Theaters:
On DVD:
Runtime:
Studio:
The Company Pictures
Critic Reviews for The Man Who Came Back
All Critics (1) | Fresh (0) | Rotten (1)
The movie sits in an uncomfortable neutral zone between guilty pleasure-style exploitation and something more somber.

Audience Reviews for The Man Who Came Back
About what you would expect from a cast where only 1 or 2 actors are well known. Looks like it was filmed by 2 film school students in their back yards, with their "Special guest teachers" as actors. A plot that reads like it has promise and falls so badly short. Not worth renting, not worth sharing the rental fee with friends.
Kamber Kuldi
Wow. This is a very bad film. After watching this I feel like I just voted for president: I need a drink and a shower, and a quiet place to collect my thoughts. The dialogue is particularly lousy. It sounds like the director just watched a bunch of Dukes of Hazzard, Dumbo, Sweet Sweet back's Badaassss Song and The Pink Panther and just picked accents from them. The acting is so bad it's not even funny. Roland Emmerich is a Cinema Genius compared to this. There are scenes that seriously look like they could've been lifted off the cutting room floor of "Guiding Light". There was obviously no money spent on period correct, well anything, and the whole thing is just disjointed and painful to sit through. I felt like turning it off after the 2nd or 3rd line of Dialogue. This is coming from a person that has watched "PCU" so many times, I can recite the lines from memory, so I know lousy dialogue. Armand Assante looks like he just got back from a bender at Cannes, and forgot to change into costume. "Heaven is what you make it" is seriously one of the lines in the film. Here's another jewel: "Umm your honor? We could just start bustin some heads and fix this real fast" This from an actor that looks like a bad Adam Sandler impersonator. Very very bad movie.
Ron Kopald
Braeden is in the main character role and he was really good. A story mired in the anti-black sentiments after the Civil War. Gruesome, gritty, dramatic, scary and stirring.The storyline is worth the time; direction and plot development is a bit long and drawn out. Actual film presentation seem a bit cheap and trite.
Yoli G
The Man Who Came Back Quotes
There are no approved quotes yet for this movie.
Discussion Forum
Discuss The Man Who Came Back on our Movie forum!