Anna M.
(2007)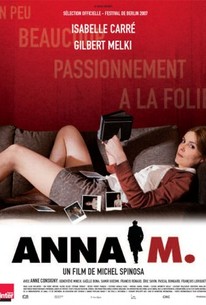 Movie Info
An innocent looking beauty uses her deceptively timid appearance to destroy the lives of strangers and friends alike in director Michel Spinosa's portrait of one woman's shocking descent into self-destruction. Despite the fact that Anna (Isabelle Carré) always appears calm and collected on the outside, beneath her skin boils a simmering cauldron of delusion and despair. When concerned but married Dr. Andre Zanevsky (Gilbert Melki) helps Anna to regain her mental footing following a near-fatal suicide attempt, the disturbed patient tragically misconstrues his professional kindness as passionate romantic advances. But Dr. Zanevsky has been nothing but professional ever since Anna began treatment, leaving him deeply disturbed to discover that she has interpreted every small friendly gesture as a declaration of undying love. Though Dr. Zanevsky does his best to convince Anna that he is happily married, she soon begins stalking him from around every corner, snooping through his mail, and trying to convince his wife that he no longer loves her. Later, after Anna lands a job as a nanny in the apartment just above Dr. Zanevsky and his wife, she manages to find a way into their apartment and leaves a clue that she's never far away. Realizing that her disturbed daughter is no longer in control of her own thoughts, Anna's mother (Genevieve Mnich) reluctantly has her committed. But Anna won't be dissuaded from her goal quite so easily, and soon sets out to convince him of her love once and for all.
Critic Reviews for Anna M.
Audience Reviews for Anna M.
There are no featured audience reviews yet. Click the link below to see what others say about Anna M.!
Anna M. Quotes
There are no approved quotes yet for this movie.