Fetching Cody
(2005)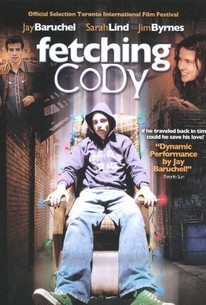 Movie Info
A small-time Vancouver drug dealer traverses through time in a desperate bid to alter the grim fate of his comatose girlfriend in this bittersweet time travel fantasy from first-time director David Ray. Art (Jay Baruchel) is a petty drug slinger whose relationship with girlfriend and addict Cody (Sarah Lind) is starting to get serious. After Art arrives home one evening to find Cody overdosed on the floor and drifting into a coma, he seeks refuge at the home of eccentric junk collector Harvey (Jim Byrnes) -- an old street friend who claims that the ratty recliner he has recently acquired is actually a cleverly disguised time machine. Immediately dismissing his friend's outlandish claim but desperate to fulfill his promise that he will always be there to protect her, Art collapses in the chair and wishes himself back to the time before Cody became addicted to drugs. Upon awakening in another time, Art realizes that the chair is in fact the real deal and embarks on a desperate mission to change the future and save Cody's life.
Critic Reviews for Fetching Cody
Audience Reviews for Fetching Cody
Same premise as The Butterfly Effect, with near the same ending. Not as memorable, but still enjoyable
Jerrod Kasperson
well done film about how our choices create our world and the impact we have, even when we're not aware and the power of putting someone else's happiness and well being ahead of our own. Very well acted with some great subtle moments of humor. There are some inconsistencies and coincidences that are a bit tough to swallow, but they further the story so they're worth overlooking.
John Wagner
½
Great performance by Jay Baruchel. Over all movie is a little far fetched. It is a very intersting concept that makes you think. Some of the dialog is forced and there are a few scenes that don't fit the sequence, but over all enjoyable.
Casey Garvey
Fetching Cody Quotes
There are no approved quotes yet for this movie.