100 Tears
(2007)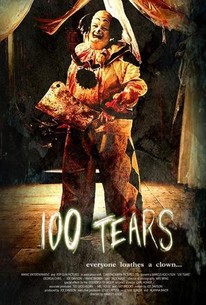 AUDIENCE SCORE
Critic Consensus: No consensus yet.
Movie Info
Hot on the trail of a notorious serial killer, a pair of fearless tabloid reporters find their quest to uncover the madman's motivations taking an unexpectedly deadly turn. No one who has ever come into contact with the so-called Teardrop Killer has ever lived to tell the tale, but Mark and Jennifer are convinced that they can capture the killer and score the biggest story of their careers. Now, deep within the Teardrop Killer's inescapable house of horrors, the reporters searching for the story of a lifetime will be forced to navigate a gore-drenched maze of vicious death and savage depravity.
Audience Reviews for 100 Tears
100 Tears is so cheaply made that it looks like a barebones production of a movie that barely had potential to begin with. Nevertheless, slasher fans will eat it right up.
Matthew Henegan
½
77% "Twenty years, we've kept Johnny Law out of our business. Justice was done, eye for an eye, carney law."-Bartender Oh, the gore, the gore! If you're a gore hound, this is a must see. There's a impressivly huge meat cleaver from Hell. "Holy shit! I just mopped here! You crazy clown! I just mopped here!"-Ricky the Janitor (John Archer Lundyren)
FilmGrinder Stone
½
I don't usually go in for slasher flicks, but this one has something a little special. Maybe it's the wild, liberal, exuberant guts and gore that laps at the screen like a meaty tsunami. Maybe it's the fact that the villain is a huge clown with an over-sized meat cleaver. Most likely, though, it's that 100 Tears is a throwback in many ways to the video nasties of the 70's and early 80's. This is grindhouse stuff with a good bit of self-conscious tongue in cheek, particularly in the chemistry between the two reporters chasing down the Tear Drop Killer. The whole think has a look and feel, both in the special effects and the overall production values, that would have made it very much at home in 1980. It's gleefully gory fun for those who have enjoyed the films of Herschell Gordon Lewis and "classics" like I Spit on Your Grave, Driller Killer and Blood Sucking Freaks. Definitely not for those who shrink from the sight of blood, disemboweling and beheading, even when they look pretty cheezy!
Brian Seitzman
100 Tears Quotes
There are no approved quotes yet for this movie.
Discussion Forum
Discuss 100 Tears on our Movie forum!