In Memory of My Father
(2006)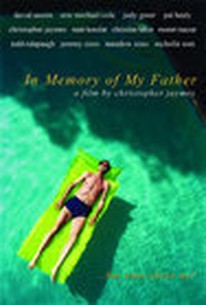 In Memory of My Father Videos
In Memory of My Father Photos
Movie Info
Three brothers return home to attend their late father's wake, only to find that the only hope for moving in is to finally sort through their own quandaries, flaws, and failings in director Christopher Jaymes' quirky, seriocomic reunion film. Their father was Hollywood royalty, so what does that make the three wayward sons? As the day begins and the wake commences, the three boys become so wrapped up in their own immediate problems that they nearly forget to grieve.
Rating:
R
Genre:
,
Directed By:
Written By:
In Theaters:
On DVD:
Runtime:
Studio:
Critic Reviews for In Memory of My Father
Audience Reviews for In Memory of My Father
The self-awareness is nice, but the self-regarding navel-gazing is no longer a new enough motif to be endearing for its own sake.
Lee Mayo
This is one of the most amazing movies I've ever seen. It's hilarious and so heart warming. Highly recommended
Jeff Tollefson
Considering that today was the first day I attended the San Diego [i]Asian[/i] Film Festival, I figured it was about time that I got up my thoughts on the films I saw last weekend at the San Diego Film Festival. [center][b]AT LAST[/b] [size=1]Directed by: Tom Anton Starring: Martin Donovan and Kelly Lynch[/center][/size] My first thought was that this film was merely a poor-man's version of BEFORE SUNSET. A romantic dramady about two high school sweethearts who find love after 25 years, it even photographed the luminous Kelly Lynch in such a way that was very reminiscent of Julie Delpy. But there are some distinct differences between the two films. While much of BEFORE SUNSET's power derives from it's intentionally narrow focus that captures the intensity of Hawke and Delpy in a kind of emotional vacuum. AT LAST, on the other hand, tries to show the same kind of relationship within the context of daily life, and having to balance spouses, kids, jobs and responsibilities while dealing with the growing realization of personal unhappiness and feelings for another person. Even if it is never spans the sublime heights BEFORE SUNSET reaches (and how could it?), AT LAST is probably a much more honest and realistic depiction of a romantic relationship. Set in New Orleans (particularly the French Quarter), it was kind rather odd watching this film in these post-Katrina times (much like it was about NYC after 9/11)-- and one comment about hurricanes caused the audience to break out in nervous, confused twittering. But the film is carried by its two lead actors Martin Donovan (Pastor Skip from SAVED!) and Kelly Lynch (DRUGSTORE COWBOY), the latter in particular giving a beautifully nuanced and textured performance. Rating: :fresh: - 7/10 [center][b]VOCES INOCENTES (INNOCENT VOICES)[/b] [img]http://www.e.bell.ca/filmfest/2004/filmsschedules/images/films/2004/53.jpg[/img] [size=1]Directed by: Luis Mandoki Starring: Carlos Padilla, Leonor Varela and Ofelia Medina[/center][/size] Phenomenal. Depicting the true story of one eleven year old boy's experiences during the El Salvador civil wars in the 1980's, this is an example of humanitarian filmmaking at its finest. Somehow managing to balance the most harrowing scenes of human brutality (child executions, ten year old boys being ripped away from their families and being forced to enlist in the army, for starters) with scenes of true buoyancy and humor (the discovery of first love, a family's deep sense of love and commitment). Padilla gives a remarkable performance as the young boy whose eyes the film is filtered through; Varela (BLADE II) anchors the film with a touching, nuanced depiction of a mother trying to shelter her children from a world that's falling apart around them. Mandoki (best known as director of MESSAGE IN A BOTTLE), Padilla, the stunning Varela were all present for the screening, as well as Oscar Torres, the screenwriter whose life the film was based on. The crowd was so moved and enthusiastic at the end of the film that it gave the cast several standing ovations, and the Q&A went about a half hour overschedule. What makes the film even more heartbreaking was not only knowing that it all was true, but that it was actually worse than depicted. It's the kind of thing that makes a comfortable college student take pause. One of the best films I've seen so far this year. I voted it best film of the festival-- and it did ultimately end up taking the grand prize at the festival. Now I'm hoping the rest of the country catches on. Rating: :fresh: - 9/10 [center][b]IN MEMORY OF MY FATHER[/b] [size=1]Written and Directed by: Christopher Jaymes Starring: Christopher James, Jeremy Sisto, Judy Greer, Nichole Tom and Eric Michael Cole[/center][/size] I stumbled in late to this one after [i]Innocent Voices[/i], and spent the first half hour or so watching it slightly confused. The important information I missed, it turns out, is that a high-powered Hollywood producer (certainly based on Robert Evans) makes a deal with one of his sons to make a documentary of his death. The film takes place during the subsequent vigil held for the father, and generally concerns itself with the interactions of the all the people connected to him-- particularly his three sons and their multiple romantic attachments. Both a biting satire and a scathing critique of Hollywood and a look at the hurt lurking behind money and the prestige, [i]In Memory of My Father[/i] is an ensemble effort composed almost entirely of actors you'd recognize but probably wouldn't know their name offhand (besides maybe Judy Greer of [i]13 Going on 30[/i] and the upcoming [i]Elizabethtown[/i], as well as Nichole Tom of [i]Beethoven[/i] fame). This large cast of characters all connected somehow-- by blood, sex, friendship, money-- and they all are out to expose each other's frailities while trying to obscure their own. Done in a highly improvisatory style that reminded me a great deal of the films of John Cassavetes (as well as the great Dutch film [i]Festen (The Celebration)[/i]), the film displays both the strengths and weaknesses that particular style presents. At times the dialogues were highly grating, but by the end it felt like some kind of real emotional honestly had been captured on film. Since I was late I didn't realize Jaymes was holding a Q&A afterwards, and after three films in a row I wasn't in the mood in waiting around for it anyway. I regret now that I didn't-- [i]In the Name of the Father[/i] has really grown on me since I saw it, and if it makes its way to general release, I'll probably see it again. And judging from the awards it has been receiving (the Grand Jury Award at CineVegas; Best Director at San Diego), that just might happen. Rating: :fresh: - a tentative 8/10 [center][b]TRANSAMERICA[/b] [img]http://www.moviecitynews.com/festivals/toronto_2005/images/transamerica_300.jpg[/img] [size=1]Written and Directed by: Duncan Tucker Starring: Felicity Huffman, Kevin Zegers, Fionnula Flanagan[/center][/size] This is the first film the Weinsteins bought post-Miramax, so you [i]know[/i] it's going to be all over the place in the near future. And it's actually a pretty good, a gritty little film with some interesting things to say . The premise is a little out there: a pre-operative transexual man finds out that he has a teenage son, and is forced to bail him out of jail just days before his long-awaited sex-change surgery. With nowhere to go, the two take a trip cross-country from New York to LA, and inevitably find out about each other and themselves in the process. The film is carried by Huffman's performance-- it takes guts to play to a man wanting to be a woman, and be willing to look horrible as both. But she gives the role a conviction and so-brittle-it-could-crack-any-moment performance that is as fierce as it is provocative. It's the kind of performance that could win big awards if the Weinsteins can drum up enough attention for it (which I'm quite sure they can do). And Zegers, now long past his AIRBUD days, has become a Leo Dicaprio look-alike, and gives a notable performance himself as a troubled teen who life keeping dealings unexpected twists. Not a terrific film, but certainly an interesting one. Rating: :fresh: - 7/10
Jesse Last
In Memory of My Father Quotes
There are no approved quotes yet for this movie.
Discussion Forum
Discuss In Memory of My Father on our Movie forum!