At the Death House Door
(2008)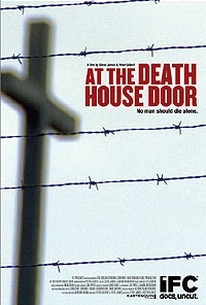 At the Death House Door Photos
Movie Info
"At the Death House Door" is a personal look at the death penalty in the state of Texas. The story is told by Pastor Carroll Pickett, who served 15 years as the death house chaplain to the infamous "Walls" prison unit in Huntsville. During Pickett's remarkable career journey, he presided over 95 executions, including the world's first lethal injection. After each execution, Pickett recorded an audiotape account of his trip to the death chamber.The film also focuses on the story of Carlos De Luna, a convict Pickett counseled and whose execution troubled Pickett more than any other. He firmly believed De Luna was innocent, and the film tracks the investigative efforts of a team of Chicago Tribune reporters who have turned up evidence that strongly suggests he was.
Critic Reviews for At the Death House Door
Audience Reviews for At the Death House Door
½
"At the Death House Door" is a haunting and incisive documentary about Carroll Pickett, a retired Presbyterian minister, and his long journey to becoming an anti-capital punishment activist, with him at one point linking the death penalty to racism.(It should be noted that he is not exactly a turn the other cheek kind of guy, either, as he advocates solitary confinement for the most heinous offenders.) Despite a couple of his parishioners being killed in a prison siege at Huntsville Prison in 1974, he agreed to become the prison chaplain, ministering to the prisoners' needs and, bless him, form a prison choir. His mission was complicated when Texas started to institute the death penalty with lethal injection, which in one terrifying scene, has protocols that seemed to have been developed on the fly. Pickett's breaking point comes when Carlos De Luna, convicted for robbery and murder, is executed. For Pickett, De Luna is the first executed man whose innocence he completely believes in. In reality, he was probably not the first innocent person executed in Texas and certainly not the last. While Pickett's story is a powerful one, De Luna's is introduced awkwardly into the larger chronology, thus limiting some of its impact. At the same time, including the Chicago journalists feels a little self-serving. And why are Texas death row inmates writing a Chicago journalist anyway? In general, none of the participants should beat themselves up over past events as they did everything they could at the time. Plus, any activist has to realize that great change does not happen overnight. Just concentrate on changing one person's mind at a time and move on from that.
At the Death House Door Quotes
There are no approved quotes yet for this movie.