Global Metal
(2008)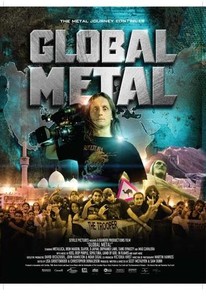 AUDIENCE SCORE
Critic Consensus: No consensus yet.
Movie Info
Filmmakers Scot McFadyen and Sam Dunn continue their cinematic study of all things heavy metal with this documentary examining the influence of the much-maligned musical genre beyond the affected cultures of Europe and North America. For those who know the telltale signs to watch for, metal-heads are everywhere. Unfortunately most highbrow music fans just aren't willing to credit these adrenaline-starved musicians with the originality they display by transforming the standards of the style rather than simply riffing on the standard clichés, all the while questioning the conflict that rages across the globe and questioning our habit for succumbing to mass-consumerism. By traveling to such regions as Asia, South America, and the Middle East, McFadyen and Dunn reveal that despite hailing from different cultures and speaking different languages, metal fans across the globe are bonded by a mutual distain of the status quo, and a desire to push the limits of music as far as they can go. ~ Jason Buchanan, Rovi
Critic Reviews for Global Metal
All Critics (3) | Top Critics (2) | Fresh (1) | Rotten (2)
After a while, the film's travelogue-with-power-chords approach gets wearisome. The movie's metal-headed analysis of cultural differences begins to feels like Michael Palin's "News for Parrots" sketch from Monty Python.
June 20, 2008 | Rating: 2/4

Dunn's movie is an indulgent presentation of metal and its devotees -- it even implies the world will be a better place when adolescents everywhere have a chance to bang their heads.
Surprising, amusing and fascinating for the most part, and full of unexpected details -- such as the guys in Metallica describing how Japanese fans throw cute toothbrushes at them when they are on stage.
June 20, 2008 | Rating: 3/5
Audience Reviews for Global Metal
An awesome follow up to Metal a Headbanger's Journey. This film follows metalhead Sam Dunn while he discovers the impact of the globalization of metal and how many countries have their own unique twist on the Metal genre. In this documentary, we get a taste on Metal Culture in different parts of the world. Sam Dunn has done a great job at exploring and documenting the Metal culture around the globe. Not only does he do a great job, but he sheds a light at various form,s of metal that most metalheads ignore. Ever since I've seen this film I've bee listening to a few bands documented in this documentary.The film shows an aspect of what the music represents for most people in other countries, most notably Arab countries. Metal music has been banned and frowned upon in Muslim countries, and we get to see how metalheads cope with that in this documentary. Sam Dunn has crafted another amazing film with Global Metal, and it's my understanding that we are one metal nation, this film gives us a taste of the long lasting brotherhood that Metal has brought us. As a diehard metalhead myself, I've always felt like I was alone, that I was the only one to love Metal, but with Metal: A Headbanger's Journey and it's follow up, Global Metal, Iam not alone. Outsiders will never understand why metal music is grand to us, they'll dismiss it, and make fun of us in the process. But I can tell you that it represents the release of freedom, it helps you forget the bullshit of everyday life and makes you feel empowered. Global Metal takes us on a journey into the world impact of Heavy Metal music. Definitely an amazing follow up the Metal: A Headbanger's Journey. This film does a great job and showing the different types of fan bases in the metal genre, not a film to miss if you love metal.
Excellent documentary exploring Heavy Metal music around the globe... making an army of fans and an impact within cultures and religions that you wouldn't expect. The film will make Metalheads of the western world appreciate their freedoms while at the same time will (in my opinion) give those not into metal a greater appreciation for the genre. From the creators of "Metal: A Headbanger's Journey."
After watching Metal: A Headbanger's Journey I was quite impressed...knowing that metal was developed from various things...and thusly I had to check out this one 'cause as Dunn explains he had a lot of emails post Metal and realized that the outreaches of such a genre...is pretty far. Especially, with how the various countries needed it for their own liberation, expression and relief of oppression. I had no idea that it went that far. This was a very informative and interesting documentary. Dunn and McFayden do it again! Anthropology rocks. Lol. Review, TBC.
Bannan instant enigma- just add water
Super Reviewer
Global Metal Quotes
There are no approved quotes yet for this movie.