Four Flies on Grey Velvet (4 mosche di velluto grigio)
(1971)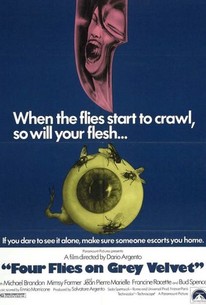 Four Flies on Grey Velvet (4 mosche di velluto grigio) Photos
Movie Info
A drummer's nightmare unfolds after he encounters a malevolent stranger and stumbles into a mystery, culminating in a string of murders, in this tale directed by horror master Dario Argento.
News & Interviews for Four Flies on Grey Velvet (4 mosche di velluto grigio)
Critic Reviews for Four Flies on Grey Velvet (4 mosche di velluto grigio)
Audience Reviews for Four Flies on Grey Velvet (4 mosche di velluto grigio)
Third directorial effort from Dario Argento is a good Giallo horror film, but it is a bit less focused than his previous two works. I felt that with this one, Argento didn't deliver anything truly memorable, which is disappointing. The film is still good, but lacks anything to really get your attention. The cast are good in their parts and the direction is very well done. However the film's script lacks a bit in terms of memorable, effective suspense that actually works. I liked the film overall, however I felt that compared to other Argento works, it was nowhere near as good as his later films. As far as the Giallo is concerned, this is a good addition to the genre, but one that could have been much better than what it turned out to be. Nonetheless, this is must see viewing for Argento fans, and it definitely is a good conclusion to his first trilogy of films, the Animal trilogy. His Three mothers trilogy would be much better and would become some of the finest works of Italian horror cinema. If you're looking for a good Giallo, then give this one a shot. However his masterpiece of the Giallo, Deep Red would be a tad better than this. Despite the flaws of this picture, I liked it, and thought it was a pretty interesting idea. However it was one that could have been reworked a bit to make it much better than what it turned out to be. Enjoyable for what it is, this is Argento finding his niche in the horror genre, and he would craft one of the finest Giallo with Deep Red. This film is good, and manages to be entertaining, but you are left wanting more out of the film, especially considering that this was filmed by Dario Argento.
Dreams of someone being decapitated with a sword, a photographer in the balconies with the head of a puppet, and a victim's eyeball being studied by police with a special camera that can capture the last image seen with that eyeball are a few visuals in this film that you just remember. Dario Argento has his signature on these unique shots that make his work seem like painting after painting. This film is the third of Argento's "animal trilogy"; and what a way to end it, with flies...
½
Four Flies on Grey Velvet is Dario Argento's rarest genre film. It completes the Animal Trilogy and is the movie that preceded the magnificent Deep Red. Having never been officially available on video or DVD, Four Flies remains a bit of an enigma. It's fair to say that it is not an entirely successful movie - it has serious flaws in story and acting - however, it showcases early stylistic experimentation by Argento. And, as such, is an important entry of giallo cinema. The story involves a rock drummer who accidentally kills a man and is drawn into a web of murder by a masked assassin who appears to have a vendetta against him. The opening credit sequence is a memorable affair, incorporating pounding drums and close ups of a beating heart. This title sequence, however, is a good indicator of the inconsistencies of the film we are about to see, as included within this impressive opening is a silly section involving a fly that irritates rock drummer Brandon. The inclusion of this nonsense is an early example of one of the films major weaknesses - the comedy. It is never funny. We have a completely unfunny postman, a guru fisherman God who says absolutely nothing of interest at any point and a man with a moustache who tells a succession of abysmally unfunny stories to an audience of giggling women. Argento has never had flair for comedy, it's just not his arena and this film shows why. Imagine how bad a giallo directed by Woody Allen would be, well that's how bad comedy directed by Argento is. But onwards and upwards. Thankfully he handles the suspense scenes very well indeed. We have the bizarre opening murder in the theatre witnessed by a highly creepy masked figure. A scary scene involving a girl hiding in a cupboard while the killer stalks outside. A sleazy episode in the underground. And, best of all, an excellent set-piece where a woman suddenly realises that she is alone in a menacing empty park that was previously filled with children and haunting carousel music playing over the tannoy. Four Flies is predominantly an exercise in suspense as all of these well handled sequences testify. The violence is restrained even for giallos of the period. Argento more than makes up for this with stylistic flourishes like the nice camera pan of the phone wires leading to the location of the killer, the shots of Michael Brandon driving his car quickly edited together with his subsequent POV approach to the private investigator's office and the deranged asylum flashback scenes. The movie is well shot with a number of inventive jump edits and unusual angles, giving a taste of Argento's films to come. However, all of these excellent elements are strung together by a somewhat ridiculous plot. There are certainly holes here, for example, how could the newspapers report finding the body of the dead man if he's not actually dead?! And as for the 'four flies' revelation near the end, well I won't spoil it for anyone who hasn't seen the movie but it really is quite ridiculous. And the killer's motivations are, to say the least, uneven. The acting, too, is not helpful. Sadly, Michael Brandon resembles a plank of wood for the majority of his screen-time. His acting range stretches from 'a bit bored' to 'quite annoyed'. He certainly doesn't help draw the viewer in. And where Brandon under-acts, Mimsy Farmer over-acts. It makes for quite unusual viewing when they are on screen together. There is a lack of chemistry here for sure. In general, the exposition scenes are a bit clunky throughout the movie. And we even have a bit of unintentional humour in the exchanges between Brandon and the homosexual private investigator. If you turned the movie on at this point you could be forgiven for thinking you were watching Carry On Giallo. The music is variable. This was the first movie where Argento incorporated rock music. From here on he would use it extensively. Similar to the rock music provided by future collaborators Goblin, the rock music here is strange, except here it is not strange in a good way. The vocalist sounds like a deaf man trying to copy Robert Plant. It's grim. And it's by Ennio Morricone so it's a bit of a shock but fortunately he also provides some good avant-garde jazzy compositions too. Much better. Overall, despite its short-falls, Four Flies on Grey Velvet is too interesting a giallo movie to be disregarded. It is a key experimental work in Argento's cannon. It may be flimsy of plot and misguided of humour but, as is the way with giallo cinema, these elements have to be weighed against the more sensory aspects - the visuals, the music, the atmosphere. And happily, there is more than enough good to outweigh the bad.
Cassandra Maples
Super Reviewer
Four Flies on Grey Velvet (4 mosche di velluto grigio) Quotes
There are no approved quotes yet for this movie.