Unrelated
(2014)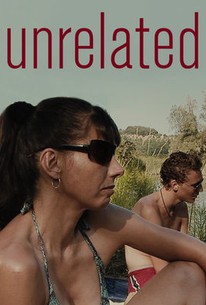 Movie Info
Anna arrives in Italy to stay with her school friend Verena and her family in their rented villa in Tuscany. Her partner Alex was meant to accompany her, but Anna tells Verena (at the last minute) that he has to stay in London due to his work. Over the course of the film it become apparent that Anna took the holiday to get some time away from Alex, following a heavy argument. The group is split into an unspoken line between the "olds," Verena, her new husband Charlie and Verena's cousin George, and the "youngs," Verena's two teenage children Jack and Badge, Charlie's son Archie, and George's son Oakley. Trying to escape her relationship worries with Alex, Anna finds herself spending increasingly more time with the teenagers, upsetting Verena. She joins in with their mild hedonism, even promising not to tell their parents about their dope smoking and a drug and drink-fuelled car accident in a borrowed car. The simmering sexual tension and flirtation between Anna and Oakley, the teenagers' ringleader, comes to a head when she invites him in to spend the night but he turns her down. Anna eventually tells Verena about the car accident, getting the teenagers into serious trouble and causing Oakley to have an appalling fight with his father. Totally rejected by the teenage group as a result, Anna leaves the villa and checks in to a local hotel. Verena seeks her out, and the two reconcile after Anna reveals she has discovered that she can't have children. She returns to the villa with Verena, is reconciled with the teenagers, and stays on for a few days after the rest of the party have left.
News & Interviews for Unrelated
Critic Reviews for Unrelated
Audience Reviews for Unrelated
½
As if from nowhere, a first-time British film-maker has appeared with a tremendously accomplished, subtle and supremely confident feature, authorially distinctive and positively dripping with technique.
Lee Mayo
An obviously low budget (some parts are hard to hear due to improper sound staging) drama that is carried by strong performances, espcially from the supporting cast. I found myself enjoying it and drawn in, and it did stick with me afterwards and make me think. A drama well-done.
Jenna L
Art house style films are just not for me, because while this film was a "good film", it was boring and mundane. It's like someone just walks around these people on holiday with a camera and nothing really happens - plots are supposed to have a beginning, climax and ending and this film just has this slow crawl of random events.
Brittanie McBride
Discussion Forum
Discuss Unrelated on our Movie forum!