12:08 East of Bucharest (A fost sau n-a fost?)
(2007)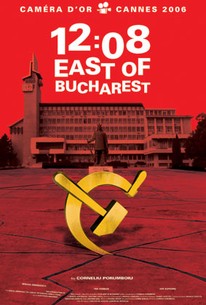 TOMATOMETER
AUDIENCE SCORE
Critic Consensus: With a witty script full of satirical overtones and dry humor, 12:08 East of Bucharest is a thoroughly enjoyable Romanian comedy.
Movie Info
Gil-Scott Heron once wrote "the revolution will not be televised," but one Romanian newsman attempts to put his nation's revolution on the air after the fact in this satiric comedy from writer and director Corneliu Porumboiu. It's the sixteenth anniversary of the revolt that removed Communist dictator Nicolae Ceausescu from power in Romania, and Jderescu (Ion Sapdaru) is the host of a televised public affairs show who wants to do a special program on the revolution. Jderescu's idea is to bring on a handful of ordinary citizens to discuss their role in Ceausescu's overthrow and how their lives have changed since Communist rule was swept from Romania. However, Jderescu can only round up two guests for his broadcast -- elderly Piscoci (Mircea Andreescu), who's more interested in playing Santa Claus for the neighborhood kids than talking politics, and Manescu (Teo Corban), a schoolteacher nursing a brutal hangover. As Jderescu tries to lead a serious discussion of how Romania has changed since Ceausescu was driven from power, the conversation wanders off on a tangent about where the revolution actually took place, and the waters become even more muddied when Jderescu opens up the phone lines for questions from viewers, most of whom have their own distinct (and strongly conflicting) memories of the Revolution . . . and one of which has a bone to pick with Manescu over some drunken insults he hurled the night before. A Fost Sau n-a Fost? (aka 12:08 East of Bucharest) received its North American premier at the 2006 Toronto Film Festival. ~ Mark Deming, Rovi
News & Interviews for 12:08 East of Bucharest (A fost sau n-a fost?)
Critic Reviews for 12:08 East of Bucharest (A fost sau n-a fost?)
Audience Reviews for 12:08 East of Bucharest (A fost sau n-a fost?)
A tremendously funny film about recollection but moreso how we often develop stories in order to make us part of larger events or experiences. A true gem.
John Ballantine
Super Reviewer
Romanian films are certainly where it's at. The past 5 years have thrown up simple yet engaging works unmatched by the majority of the world. They have the ability to comment on Romanian society, with a sense of dark humour and without being too preachy. 12:08 East from Bucharest tells of a small town and whether or not it had anything to do with the 1989 revolution. The film sets up it's three protagonists and the world they live in. It manages to use the small town setting to it's advantage as we get a lot of back-story through the townsfolk recollections of each other. Over half the film is a TV broadcast, making it almost static, given humourous life by an incompetent cameraman and his less than adequate tripods. Luckily the dialogue, bickering and mystery is enough to keep the audience fully entertained. It's amazing how brilliantly scripted dialogue can be more enthralling than car chases, explosions and slapstick. The cinematography is also beautiful, with an exceptional silent climax as the streetlights come alive at dusk.
Luke Baldock
Super Reviewer
½
[font=Century Gothic]"12:08 East of Bucharest" has two things in common with other Romanian movies I have seen in the last couple of years:[/font] [font=Century Gothic][/font] [font=Century Gothic]1. The favoring of long, static takes.(To highlight this, there is a running joke about handheld cameras.)[/font] [font=Century Gothic]2. The movie takes place in a single day.(What is up with this, by the way?)[/font] [font=Century Gothic][/font] [font=Century Gothic]This day is December 22, 2005, the 16th anniversary of the end of Communist rule in Romania. To commemorate this, Virgil Jderescu(Teodor Corban), a former textile engineer, is hosting a special program at his television station on the events of that day in the town he lives in. As guests, he has Tiberiu Manescu(Ion Sapdaru), an alcoholic university professor, and Emanoil Piscoci(Mircea Andreescu) who has just been drafted into being the neighborhood Santa Claus again.[/font] [font=Century Gothic][/font] [font=Century Gothic]"12:08 East of Bucharest" is a deadpan comic movie that is about a television show that lies somewhere between bad public access television and Monty Python. On the serious side, the movie is also a meditation on the role of history in everyday lives. The world in general may change but life goes on. And it is clear that nothing much has improved for these characters in the past sixteen years. [/font]
12:08 East of Bucharest (A fost sau n-a fost?) Quotes
There are no approved quotes yet for this movie.