Swamp Devil
(2008)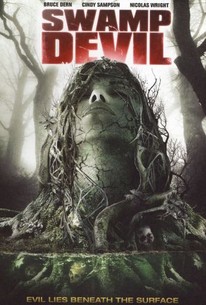 AUDIENCE SCORE
Critic Consensus: No consensus yet.
Movie Info
Bruce Dern and Cindy Sampson star in director David Winning's horror film about a young girl who reluctantly returns to her home in the southern bogs in order to help her estranged father. Melanie Blaime though that she had escaped the swamps forever, but when her father is accused of killing a teenage girl she must race back home to seek out the source of the trumped up charges against him.
Audience Reviews for Swamp Devil
I can't believe how terrible this film is. Could the "devil" have been made to look anymore cheesy an cheap?
Lanky Man Pat
½
The thirteenth Maneater movie is everything that Yeti: Curse of the Snow Demon should have been.Fun,funny,stupid,and God awful.The movie's monster is some sorta Swamp Monster thing (obviously),that I can only describe as a Lizard Man that's sorta covered in sea weed and in a Ghille Suit.Now,Swamp Devil's plot is that this girl returns to her home town and that her dad is a suspect in some murders and that it's this Swamp creature thing and wow was it weird.In fact,that is this movie,it's weird.It's nothing like I seen in quite some time.Now,while Swamp Devil's plot wasn't horrible or super hard to follow,it's so strange and so unusual.For a Sy-Fy Original,I find the weirdest one yet.I can't find much to rant about so...it passes,I guess. The acting on the other hand,is hilarious and virtually nothing more.Every actor does what I'd expect them to do,and does it with flying colors.They act stupid (and ironically,seem to do it on purpose),they say there lines like they're aware of how idiotic they are,and seem to think that trying to kill the creature without help from people who have some serious fire power is a bad thing to do.Nope.go into the swamp and then proceed to be chased around by it and have a few extras die.The delivery of the movies dialogue also doesn't feel forced.Something Yeti did and this movie doesn't.Every line doesn't feel like it was shoved in your faced like "Hey! This is suppose to be unintentionally funny! LAUGH!".In a nut shell,the acting is very funny. The directing is shaky as usual.If that isn't enough,the lighting feels really bad.It's like a two for one sale at the shitty mart.I can barely see anything,now I can virtually see my reflection.Honestly,was it to much to afford a light bulb? A note to anyone who wants to make movie's in the future,buy a fucking light bulb and not a tiny ass flashlight you can buy at the dollar store.Or at least get some night vision goggles.Either one works,but a tiny flashlight does not cut as lighting.Now moving onto the shakiness,I get the feeling there was a Hurricane going on when this was being directed.It's as bad as the other Maneater movies,but I still take a point off for the fact it just makes watching the movie even more difficult.The only this could get worse if they where filming on large roller coaster.In a nut shell,the directing is terrible.Thirteen movies,and it still sucks,what a damn shock. The CGI is atrocious.It's not even funny,the Swamp Devil itself looks insulting.No,you can not laugh it,you can only stare with your jaw down at the Mantle of the Earth.This abomination passes off as a Swamp Monster?! I seen better CGI in the show Lost Tapes! Hello! A TV show has better visuals than this piece of garbage! You can make more convincing monsters in Roblox! I can not believe that,after Yeti,that RHI and Sy-Fy could not make a better creature.I'm willing to believe that a Collage student made the effect,because the next movie had a pretty impressive effect for a Sy-Fy movie.There is no effort put into this monster and I really couldn't believe my eyes when I saw it.In a nut shell,the CGI is God awful and there is no excuse for it.Seriously,watch Lost Tapes and you'll see a better looking monster. The dialogue is hilarious.While defiantly not the best of the Maneater movies,you could do worse (In The Spider's Web).There isn't much to say about it other than the occasional bull shit "No shit Sherlock! Now you'll say that the sky is blue,the grass is green,and that thing is fake!" moments where the obvious is stated so terribly,that it's nearly eye opening (There's something to have you stay awake all night,dumb founded!).Though I'm pretty sure that if that was originally intended to break the fourth wall,it was scrapped in favor of the obvious.I say that since some lines of dialogue feel a bit clunky.On top of stating the obvious (like in a majority of Sy-Fy Originals),some parts fee a bit out of place and/or rushed.What happen? Was Swamp Devil rushed since they needed a movie to air since Stargate wasn't airing? Well,none the less,the dialogue is funny to listen to and is enough to keep the movie afloat.Oh,that and none of is padding.Eat that In The Spider's Web! The characters are so stupid it's hilarious.There's enough moments to have you laughing at how stupid these brain dead morons are to last a life time.I'll admit that sometimes the characters go over board with how dumb they are,but they're few and far between.And they'd be over shadowed with the times that they made you laugh at them.When they die,it seems they like to die without any dignity either,which makes the ones you hate even better.So not only are they stupid and funny,the ones you hate die without dignity! The writers seemed to have had respect for there watchers.Now I will nit pick at the fact these characters feel a lot more one-dimensional than the other movies.Which I will admit is enough to take a point off,since the others weren't that noticeable,unless you watched them seriously and not for fun,which I tried for all of these movies.But none the less,the characters are funny,stupid,and sadly,one dimensional. Over all,Swamp Devil suffers from terrible directing,one dimensional characters,and God forsakenly terrible CGI.But the funny acting,characters (none the less),dialogue,and decent plot (despite it being weird),keeps it afloat.Their isn't much to say about Swamp Devil either,since the movie is really just a pretty generic monster movie,which is surprising,considering all the other Maneater movies have had something interesting about them.But Swamp Devil is just sorta...a monster movie.I recommend this one if you want a generic,plain,and normal monster movie.Other than that,it's probably not worth your time.I score Swamp Devil a 3 out of 10.Now what RHI and Sy-Fy followed up with is the best of the Maneater Movies!
Chris Skoufis
Horror? Not hardly. Comedy? Well, maybe, but if so, it's unintentional. This was incredibly lame. But, I suppose that's to be expected of movies like this, so if it's your thing, you might enjoy this one. Don't expect anything new or exciting, though.
Amanda Hendsbee
Swamp Devil Quotes
There are no approved quotes yet for this movie.
Discussion Forum
Discuss Swamp Devil on our Movie forum!