1984
(1956)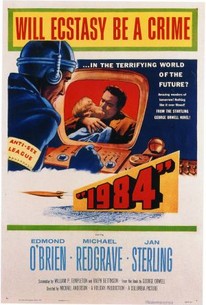 AUDIENCE SCORE
Critic Consensus: No consensus yet.
Movie Info
A prosaic filmization of George Orwell's cautionary novel, 1984 is set in a futuristic totalitarian society where individuality is forbidden. The ruler is the never-seen "Big Brother," whose minions have monitored and bugged the activities of the populace so that no one can harbor any "subversive" thoughts. Edmond O'Brien plays Winston Smith, a government functionary satisfied with his lot, until he commits the illegal act of falling in love with Julia (Jan Sterling), a member of the anti-sex league. The lovers try to escape the all-powerful influence of Big Brother, but their every move is recorded by listening and viewing devices. Both are captured and sent to rehabilitation centers; preying upon Winston's and Julia's innermost fears, the lieutenants of Big Brother break down their resistance and force them to betray one another. ~ Hal Erickson, Rovi
Rating:
NR
Genre:
Directed By:
In Theaters:
Runtime:
Critic Reviews for 1984
All Critics (2) | Fresh (1) | Rotten (1)
There is a kind of glum, low-rent fatality to the production that suggests oppression through attrition

Flat, badly miscast film version of the Orwell landmark.

Audience Reviews for 1984
It's no wonder this movie has been all but forgotten: it's focus on sexual mores was out of step for Hollywood's increased sexual activity plan of the '60's. One of the actors, Edmund o'brien's name is similar to one of Orwell's characters, which isn't strange at all because of the propaganist nature of the film it is only fitting. Whoever read the book and decide it would make a good movie completely missed the point Orwell was trying to make and rendered the story with as much sophistication as a Bugs Bunny cartoon.
Naomi Gonzalostein
½
Gosh this is bad, for those of you that have not read the book the film may be acceptable, but if you have then you would notice how degenerated this version is. The film completely tossed the book aside and made up it's own Hollywood-ized version, fat old Winston, blond Julia,silly telescreen, melodramatic plot. The worst part was that they changed the ending to make the film seem like a romance movie. It toned down a lot of the torture and key themes in the film, the names were changed, the details were changed, it doesn't even talk have a subtext of anti communism anymore. Please, read the book before watching this film. The mise en scene was good though, it really matched the description in the book.
Sylvester Kuo
Super Reviewer
"1984" is more than ever worth watching. Fascinating, reflects the concern of today, given the recent revalations of U.S. government collecting metadata, phone records, emails, facebook accounts, twitters and much more about U.S. watching U.S. and foreign citizens, groups, nations. A 9 year plan of BIG BROTHER is to thwart love, thought, any attempt at individualism. The couple here shown finds a way to be together in peace by renting a room where they can dress as they wish, do as they wish. Such a life is a death sentence for the two. [img]http://www.dallmeierart.com/user/cimage/21352c110.jpg[/img] The Party keeps the population constantly under fear by the war effort. Everything is to battle the so called Enemy. Privacy is not allowed to battle the Enemy. Such is the state of this population of rats in a cage. SEE a clip from the film here: www.youtube.com/watch?v=Z_b04ZzekOA SEE the ENTIRE film here: (copy and paste into your address box) http://www.youtube.com/watch?v=ajWC_J-jgLc&list=PL8F18E48510403329 [img]http://t3.gstatic.com/images?q=tbn:ANd9GcRkxImS8cfL7IOmzSx5FN42-yx7_YyOaWE9bJa6tfff3P9sWLhP[/img] 1984 is a 1956 film loosely based on the novel of the same name by George Orwell. This is the first cinema rendition of the story, directed by Michael Anderson, and starring Edmond O'Brien. Under the obvious story of snooping and privacy invasion erupts a quaint idea... a forbidden love. This is a love story, of all things. Suppressed love since hate is the preferred dogma of the day. [img]http://t1.gstatic.com/images?q=tbn:ANd9GcS9h5Vw3_nvFo8gzv1uck62_Y7w0LrJ46cAIp3TCBBO9xtp6XsLlw[/img] A world at war after a revolution REVIEWS: 80% Classic worth seeing of Orwell's classic dystopia novel. [img]http://t3.gstatic.com/images?q=tbn:ANd9GcQ9JvxDlfzei2AXvOegan0w6yx65DbctU-Xdp9WP8o5-9jK7kSF[/img] A traitor to the cause, guilty of loving a man NOTES: ....the film was withdrawn from the theatrical and TV distribution channels by Orwell's estate and was not legally obtainable for many years, although it has since been released on DVD and clips have surfaced on YouTube. [img]http://t2.gstatic.com/images?q=tbn:ANd9GcSoJGzuIQ8wUDX0gCWWJnsjUBFc-lzaia-ywIhDnEgSUJ8-q-to[/img] Cast Edmond O'Brien as Winston Smith Michael Redgrave as General O'Connor Jan Sterling as Julia David Kossoff as Charrington the Junk Shop Owner Mervyn Johns as Jones Donald Pleasence as R. Parsons Carol Wolveridge as Selina Parsons Ernest Clark as Outer Party Announcer Patrick Allen as Inner Party Official Ronan O'Casey as Rutherford Michael Ripper as Outer Party Orator Ewen Solon as Outer Party Orator Kenneth Griffith as Prisoner [img]http://t0.gstatic.com/images?q=tbn:ANd9GcTJgWf4taeDw3seFJGgi8aop0T8kPVTCwW3NBGU2UdWGDt5GzD7[/img] Directed by Michael Anderson Produced by N. Peter Rathvon Written by Ralph Gilbert Bettison William Templeton George Orwell (novel) Music by Malcolm Arnold Cinematography C.M. Pennington-Richards Editing by Bill Lewthwaite Studio Holiday Film Productions Ltd. Distributed by Columbia Pictures Release date(s) 1956 Running time 90 minutes Country United Kingdom Language English Box office £80,073 [img]https://upload.wikimedia.org/wikipedia/en/thumb/a/a7/1984film.jpg/220px-1984film.jpg[/img]
monsieur rick
1984 Quotes
There are no approved quotes yet for this movie.