Tehilim
(2007)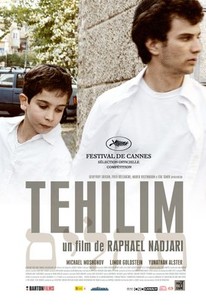 Movie Info
When faced with a bizarre crisis, a contemporary Jewish family finds itself torn between legalistic ancient teachings and the modernity necessary for daily problem-solving, in Raphael Nadjari's spiritually themed psychological drama Tehilim. The older generation of the clan at the heart of this story -- typified by grandfather Shmuel (Ilan Dar), his middle-aged son, Eli (Shmuel Vilojni), and Eli's brother, Aharon (Yohav Hayit) -- approaches life with byzantine, cerebral theological discussions. The younger generation -- exemplified by Eli's teenage son, Menachem (Michael Moshonov) -- loses its spiritual vestments upon leaving the house and prefers a more practical approach to life. When Eli suddenly and inexplicably goes missing following a minor car accident, Nadjari segues into a minute investigation of the diverse ways that the individual family members cope with the crisis. While Shmuel and Aharon encourage Eli's wife, Alma (Limor Goldstein), to immerse herself in constant prayer, Alma has had it with spiritual tenets and must figure out very concrete and immediate methods of dealing with her husband's absence and their frozen bank accounts. Meanwhile, Menachem, looking past the immediate crisis, pines for more alone time with his girlfriend, Dvora (Reut Lev). Nadjari co-authored the original script with Vincent Poymiro.
Critic Reviews for Tehilim
Audience Reviews for Tehilim
½
An unfocused drama that, despite a promising premise, never delves into the themes that it only touches upon, ending on a pretty vague note - and it doesn't help at all that the protagonist is such an unlikable teenager that doesn't really inspire our sympathy.
Carlos Magalhães
Super Reviewer
Tehilim Quotes
There are no approved quotes yet for this movie.