13B
(2009)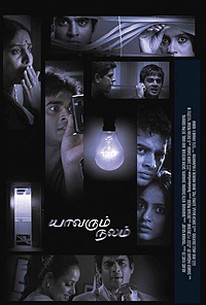 AUDIENCE SCORE
Critic Consensus: No consensus yet.
Movie Info
Director Vikram explores the possibilities for terror when the television becomes aware of the power it holds over the average family, and decides that it's time to take control. In a world that never sleeps, the only source of relaxation for many is the household television. Previously just another appliance like the refrigerator or oven, the television of the 21st century is thought by many to reveal the hierarchy of the family; whoever controls the television remote controls the family. But what happens when the television becomes sentient and decides that it's time for a change? This is what happens to Manohar and his family upon moving into their new home at 13B. Realizing to his horror that their television has stopped showing them the facts and started showing them the things that it wants them to see, Manohar must race to save his family from becoming unfortunate victims of the digital age.
Rating:
NR
Genre:
, ,
Directed By:
Written By:
In Theaters:
On DVD:
Runtime:
Studio:
Audience Reviews for 13B
Surprisingly creepy and well done for an Indian horror movie, but the big reveal is easy to pick up on by the watchful eye.
Maruf Hossain
13B (Vikram K. Kumar, 2009) I've probably seen a half-dozen Bollywood attempts at horror since I started this all-consuming Bollywood phase of my movie-viewing existence back in 2005 or so. To a one they've been horrific (and not in the proper way). There's just something about scary monsters that doesn't mix with romance subplots and big musical numbers, you know? But I keep telling myself that if I dig deep enough, I'm going to find the perfect Bollywood horror film. And this brings us to my viewing of 13B yesterday. This second feature from Vikram K. Kumar kicks off with an interesting, if derivative, storyline, and then brings in the cheese...and keeps heaping on block after block until, by the end of the tale, the movie smells rather like a fromagerie. (Honest to Limburger, if you don't see that final scene and laugh like a loon, you're lacking a funny bone. The pathetic thing is, it's not supposed to be funny.) Plot: Manohar (3 Idiots' Madhavan) and his extended family just got a killer deal on a brand new condo. They move in and set about getting the place livable, but odd things start happening. In the opening scene, we find out that milk bought just the day before has already curdled. Manohar's phone works everywhere else, but takes distorted pictures in the apartment. Their blind neighbor in 13A, Kamdar (Black's Dhritiman Chatterjee), has a service dog who refuses to set foot in the apartment. You know what all these things mean, because you've seen more than three horror movies in your life. Meanwhile, the women of the household have found themselves a new series to watch-but when Manohar catches a glimpse of it one day, he realizes that the events portrayed in the TV show bear startling parallels to the lives of Manohar's own family and friends. Manohar, with the help of his pal Shiva (Jaane Tu...Ya Jaane Na's Murli Sharma), a police inspector, has to figure out what's going on before the events being foreshadowed in the serial come to pass. It's not a bad conceit, which is shown by the fact that it's been done so many times before. But it is entirely lacking in horror-film atmosphere. Thus my statement above that the normal Bollywood trappings don't mix with horror films, but there's also a huge amount of unnecessary exposition here that undercuts any tension the script (written by Kumar) may have been able to generate. "Show, don't tell" is the golden rule in media for a reason. And this is why that last scene, which I don't think I've ever seen work well, here ends up being laughable; given enough atmosphere, it might not have worked, but it would have at least been mildly effective. Ultimately, the two best thins about this movie are (a) for me, it reminded me that I need to go back and watch 3 Idiots and Black, both movies I've been meaning to get round to for years, and (b) my son, who will be two in a few months and is entirely enchanted with Indian film music (I've got an Asha Bhosle Pandora station set up just for him), found the music video that plays over the end credits fascinating enough that he actually stopped dancing for a while just to stare at the TV. (I was not nearly as thrilled with the song as he was, but I'm not going to complain about the video all that much.) I continue to hope that one day Bollywood will come up with a fantastic horror movie. After seeing 13B, I need to keep looking. **
Robert Beveridge
Few horror films made scare me. Too much blood, torture & despair on the big screen. That's why I so emphatically love smaller scares which let your mind imagine what lurks behind the door or under the bed. "The Blair Witch Project" & "Paranormal Activity" did just that for me. Since so many Bollywood movies are out there, I took a chance with my first Indian horror film, "13B" & mostly enjoyed the film. The story: Two families move into a newly renovated flat which is experiencing some oddities - the milk curdles, they can't hang pictures in the prayer room & at 1PM everyday on Channel 13 (EyeTV) the women of the house are mesmerized by a new soap opera called "Everything is Fine". Well, things aren't fine as one of the men discover the story on TV mirrors & predicts their own lives! So, there's good news to share (a promotion, a new baby) & some bad as well (the family is bludgeoned to death with a hammer), the older brother springs into action to change their fate. Great premise, few scares, little violence, but a lot of fun with laughs for me (perhaps not intentional though!). If you're familiar with Bollywood movies, yes, this one brings in two song & dance spectacles kicking & screaming - they broke the creepy tone of the film, so I forgive the filmmakers. The outcome was strange so when Hollywood remakes this as rumoured, I'm sure they will tidy it up, edit out the lunatic cousin & enhance the blood shed. The film's long (146 minutes), but mostly enjoyable. Now, I need recommendations of other Bollywood horror films…can anybody help here?
David Clayton
13B Quotes
There are no approved quotes yet for this movie.