Driven to Kill
(2009)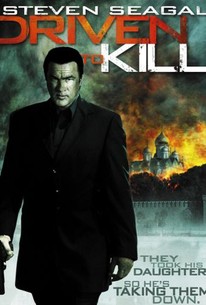 AUDIENCE SCORE
Critic Consensus: No consensus yet.
Movie Info
A former Russian mobster named Ruslan (Steven Seagal) sets out to avenge his daughter's death by taking on the entire Eastern underworld. Back in the day, the mere mention of the name Ruslan was enough to make mob bosses tremble with fear. But these days Ruslan has put down his gun and picked up a pen; he's a best-selling author, and he's given up his violent ways. That all changes the day that Ruslan returns home for his daughter's wedding, only to discover that she has been murdered in a violent home invasion. Now, in order to ensure that justice is served, the grieving father will return to the world he thought he had left behind forever.
Rating:
R (for strong violence throughout, language and some sexuality/nudity)
Genre:
Directed By:
Written By:
On DVD:
Runtime:
Studio:
Critic Reviews for Driven to Kill
All Critics (2) | Fresh (0) | Rotten (2)
The story is murky and meandering, with poor writing that matches the level of Seagal's pen on his previous films.

The worst mumbling by an actor since Colin Ferrell in "The New World." Steven Seagal is indescribably terrible.

Audience Reviews for Driven to Kill
½
Very boring. All the fight scenes are dull mostly due to quick camera movement. The fighting choreography is lame and the plot does not make it any better.
Josh Moquin
½
Being born as a male practically makes me by genetics required to enjoy action films, and also, being a B-movie lover, has allowed me to enjoy many despised and terrible action films (I'm probably one of the only people on Earth who actually likes Ballistic: Ecks Vs. Sever, which I awarded a score of 3.5/5). I love watching trashy, ridiculous nonsense, and the action genre along with the horror genre has given me a plethora of wonderful trashy films that I treasure and have a lot of fun with. Whether they are theatrically-released, direct-to-video/DVD, or obscure stuff, I have enjoyed more terrible films than I should (Your head would probably explode if you saw just how many badly-reviewed action films I've enjoyed). That being said, Driven To Kill is a lousy Steven Seagal action film. This is quite disappointing, as Steven Seagal was at least at one point, a reliable source of for trashy action film entertainment. You certainly should never go into a Steven Seagal action film expecting high art, but as I've come to learn about his post theatrical-release films, they are very hit-or-miss in quality and they don't come close to his efforts from the 80's or 90's (Boy, I miss the days of Hard To Kill and Under Siege). The problem with many of his newer films is how he just doesn't seem to give a fuck anymore and seems to become increasingly lazy with each passing year and his films are reflecting this blatant, who-gives-a-fuck mentality. Though, at least Driven To Kill doesn't so blatantly reflect this as say, Against The Dark which makes Driven To Kill look like Die Hard by comparison. The plot is generic and boring: Steven Seagal plays a former Russian mobster who is out to avenge the murder of his ex-wife and attempted murder of his daughter by Russian gangsters. Now he must get to the truth along with his daughter's fiance by means of violence. The premise, while unoriginal, could have been made into something interesting. I'm a sucker for revenge films (The Crow and the first Mad Max are easily among my all-time favorite action films) and I'm already familiar with Seagal's past work with revenge films like Hard To Kill and Above The Law which I really enjoyed (I awarded each of them a score of 4/5) because they felt energetic and lively despite cliched premises. However, Driven To Kill just seems bored with itself because it knows just how unoriginal it is as it feels like a patchwork of bargain versions of other films like Eastern Promises (Russian mobster element) and Hard Boiled (Have you ever wanted a bargain version of the classic hospital climax? No? Well, Driven To Kill will give it you anyways!). When it comes to acting, the film is very bland and terrible, even by the standards of direct-to-DVD action films. Look, I'm not expecting Steven Seagal to deliver an award-winning performance as he has never been a good actor (Much like many of his action star contemporaries), but I would like for him to at least try harder than he does in this film. Plus, making him have a Russian accent was nothing short of a terrible idea. Hell, this is probably the worst Russian accent ever performed on film, made worse by his lazy mumbling of lines. The rest of the cast is also pretty bland and uninterested in their roles, but at least they're not nearly as awful as Steven Seagal is. However, no one goes into a Steven Seagal film for acting chops of storytelling, but rather, for the action elements...which Driven To Kill fails miserably at. Especially as since this is a revenge film, it should be more raw and more gritty, but the film feels very flat in tone as well as joyless since it insists the viewer take it super seriously despite being bored with itself. Even when Seagal is beating the crap out of people or shooting them, there are no thrills, just a dull, joyless tone that suffocates the whole film. It delivers none of the action film thrills you would expect from a Steven Seagal film and will only leave you disappointed. In the end, Driven To Kill is a lazy and derivative film starring a man who seems to have grown bored as an action star and just doesn't seem to give any sort of damn through the whole film. This film should have been a breezy 90-some-odd minutes of trashy entertainment, but it comes off as a boring, low-rent gangster film. Avoid it, even you are a die hard Seagal fan.
Keenan Sullivan
Just your typical straight to dvd low budget Steven Seagal film its worth a watch for some of the worse Russian accents in film history. Seagal has gotten fat and he still talks with that low whisper voice you can barely understand. Stay away if your looking for a good story, acting, fight choreography, etc. A drinking game could be made for every time Seagal loses the Russian accent randomly throughout the movie.
Andrew Sutherland
Driven to Kill Quotes
There are no approved quotes yet for this movie.
Discussion Forum
Discuss Driven to Kill on our Movie forum!