Witch Hunt
(2008)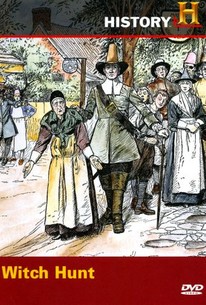 AUDIENCE SCORE
Critic Consensus: No consensus yet.
Movie Info
This documentary offers a comprehensive look back at one of the most disturbing incidents in American history: witch hunting and the infamous Salem witch trials of the 1690s. Drawing on diaries and letters preserved from this gruesome moment in time (during which at least 20 innocent townspeople were executed for practicing witchcraft), the political and religious stances of the age are analyzed in hopes of attaining a better understanding of the obsession with ridding Salem of the devil's influence.
Critic Reviews for Witch Hunt
All Critics (2) | Fresh (2) | Rotten (0)
It's the sort of documentary that can reduce a grown man to tears. I know because it certainly had that effect on me.

Audience Reviews for Witch Hunt
Witch Hunt is an important documentary and shows that innocent people can still be convicted of crimes. It's a deeply disturbing, horrifying, and sad documentary about some different people in Bakersfield, CA who were wrongly accused of child molestation. Many of the charges were that they sexually assaulted their own kids. Sean Penn narrates Witch Hunt and there's something about his voice that is so effective at evoking a lot of emotion out of these innocent people's stories. The good news is that these people have been freed, but the bad news is that they last years and years of their life, and those responsible for putting them their have just gone on living their same normal lives. They withheld information and coached the kids on what to say in court. Watching it will make you sick, especially when you listen to the piece of shit DA who's been re-elected 6 or 7 times. It's sad that stuff like this can occur. We sit in the modern world and say that the Salem Witch Trials were stupid and ridiculous, but in reality it's all still happening.
Melvin White
Super Reviewer
"Witch Hunt" is a heartbreaking documentary about the wrongful prosecution of people accused of child molestation in Bakersfield, California by an ambitious district attorney in the 1980's. Even after new evidence had been found to refute the original charges, it is not the end of their ordeals as damage coninutes to be seen decades later. However, there is no mention of the eerily similar McMartin Preschool case which would have lent more context to the documentary. This is worth mentioning for a couple of other reasons. First, when I watched an HBO movie called "Indictment: The McMartin Trial" starring James Woods, I believed going in that these charges were true, and watching this dramatization, I was blown away by the absurdity of it all. This comes from a presumption of guilt that exists in this country, no matter how idealistic we think we may be, especially when it concerns the most serious charges. Also, were the two cases connected or was there something in the drinking water in California at the time? So, the Bakersfield cases were not as isolated as stated in "Witch Hunt." In the end, a lot of the hysteria around incidents like these can be explained by what Bill Hicks termed Child Worship Syndrome which only shows how some people can get creepily emotional over children.
Witch Hunt Quotes
There are no approved quotes yet for this movie.
Discussion Forum
Discuss Witch Hunt on our Movie forum!