Witch Hunt
(2008)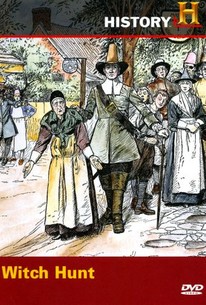 AUDIENCE SCORE
Critic Consensus: No consensus yet.
Movie Info
Academy Award-winner Sean Penn serves as producer and narrator of this documentary detailing the disturbing spike in child-molestation allegations and sex-abuse cases in the small California community of Bakersfield during the 1980s, and the rash of convictions that quickly followed. It was during the Reagan era that the citizens of Bakersfield began to grow concerned about law-and-order issues, eventually electing a new district attorney to crack down on crime. What happened next, no one could have foreseen. Almost overnight, seemingly well-adjusted individuals and happy couples were charged with the heinous crime of child molestation. In the aftermath, the local jails became crowded with alleged child molesters who took every opportunity possible to proclaim their innocence. As the arrests ramped up and heavy sentences were handed down by the local judge, some frightened residents attempted to flee town. But their efforts were in vain, because anyone who fled was quickly tracked down and dragged back to Bakersfield to face their accusers - their own flesh and blood. When accusations of satanic rites began to emerge, the state attorney general launched a comprehensive investigation that proved many of the cases to be legally deficient. Later, it was revealed that many of the over-zealous, under-trained social workers in Bakersfield had coerced the children into making the accusations, prompting the release of numerous accused parents after years behind bars. Could their families every truly be normal again after such a long and drawn out trauma? That question and many more are addresses in this cautionary look at the very real dangers of mass hysteria.
Rating:
NR
Genre:
,
Directed By:
Written By:
On DVD:
Runtime:
Studio:
Your Half Media Group
Critic Reviews for Witch Hunt
All Critics (2) | Fresh (2) | Rotten (0)
It's the sort of documentary that can reduce a grown man to tears. I know because it certainly had that effect on me.

Audience Reviews for Witch Hunt
Remember in the 80's, when Geraldo could find a pedophile or a Satanist on every street corner? This documentary covers the incident that arguably got the ball rolling.
Craig Burgess
Witch Hunt is an important documentary and shows that innocent people can still be convicted of crimes. It's a deeply disturbing, horrifying, and sad documentary about some different people in Bakersfield, CA who were wrongly accused of child molestation. Many of the charges were that they sexually assaulted their own kids. Sean Penn narrates Witch Hunt and there's something about his voice that is so effective at evoking a lot of emotion out of these innocent people's stories. The good news is that these people have been freed, but the bad news is that they last years and years of their life, and those responsible for putting them their have just gone on living their same normal lives. They withheld information and coached the kids on what to say in court. Watching it will make you sick, especially when you listen to the piece of shit DA who's been re-elected 6 or 7 times. It's sad that stuff like this can occur. We sit in the modern world and say that the Salem Witch Trials were stupid and ridiculous, but in reality it's all still happening.
Melvin White
Super Reviewer
½
interesting movie about mass hysteria and the ridiculous notion that children never lie. it doesn't have the brutally personal emotional wallop or the compelling footage of a movie like "capturing the friedmans" but the hysteria is on a much wider scale.
Gregory Collins
Witch Hunt Quotes
There are no approved quotes yet for this movie.
Discussion Forum
Discuss Witch Hunt on our Movie forum!