The End of the Line
(2009)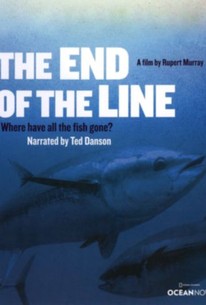 The End of the Line Videos
The End of the Line Photos
Movie Info
"The End of the Line" is the first major documentary about the imminent peril facing the world's oceans. Narrated by Ted Danson and based on the book by Charles Clover, the film explores the devastating effect that over-fishing is having on fish stocks and the health of our oceans. Scientists predict that if we continue fishing at the current rate, the planet will completely run out of fish by 2048. More than just a doomsday warning, "The End of the Line:" offers real, practical solutions that are simple and doable, including advocating for controlled fishing of engendered species, protecting networks of marine reserves off-limits to fishing, and educating consumers that they have a choice by purchasing fish from sustainable fisheries.
News & Interviews for The End of the Line
Critic Reviews for The End of the Line
Audience Reviews for The End of the Line
½
After watching this movie, I'm giving up seafood for Lent ... even though I'm not Catholic. Thankfully this movie provides things we can do now to make a difference. So why don't we?
Ron Sitton
½
Great visuals and music as usual, National Geographic! However, I wish this movie talked more about bycatch. People care more about dead dolphins, sharks, octopi, etc. Not to give fish less credit, because I love them and went veg because of fish, but you have to market what people care about too.
Stephanie Geare
There was once a time when documentaries focused on fresh and interesting subjects. In this era of negativity, most of them now focus on problems and persuading the audience that everything will not be OK. I've seen a ton of these. So really, when The End of the Line tries to convince me I should lose sleep because the blue fin tuna may go extinct, I can't help but not give a crap.
Dodd Alley
The End of the Line Quotes
Discussion Forum
Discuss The End of the Line on our Movie forum!