Street Dreams
(2009)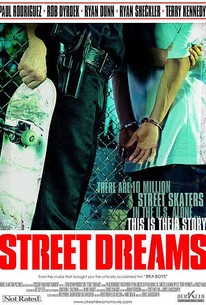 AUDIENCE SCORE
Critic Consensus: No consensus yet.
Movie Info
Derrick Cabrera, like all skateboarders, dreams of being sponsored one day. He has all the talent in the world to make it happen but some major roadblocks to overcome before he can make the dream a reality. He is receiving pressure from all sides, his parents are stressing him because he is failing in school, his girlfriend thinks he is a loser, his best friend has become his rival because he is better than him. Things come to a head after Derrick gets arrested and a fight ensues with his father resulting in him running away from home. He does the only thing he knows how to do and opts to follow his dream to the Tampa Am contest, one of the only ways an unknown skater can get noticed.
Rating:
R (for pervasive language, crude sexual content and some teen drinking)
Genre:
Directed By:
Written By:
In Theaters:
On DVD:
Box Office:
$84,944.00
Runtime:
Studio:
Critic Reviews for Street Dreams
All Critics (2) | Top Critics (1) | Fresh (1) | Rotten (1)
First-time director Chris Zamoscianyk nicely captures the boozy, profane silliness of teenage boys on the loose, while drawing believable performances from a cast comprised largely of nonactors.

Audience Reviews for Street Dreams
Street Dreams is amazing skate story that has no limits the the greatness of it. Fantastic story,amazing acting especially by Dyrdek,and Rodriguez Jr.,and of course Dunn never fails to make it fun (R.I.P) and the rest of the cast. Not only is this movie just skating and tricks. But the story and strong emotion put into it and what evey kid is told. As this movie can't touch "Lords of Dog Town" it's right behind it as a Classic. A+ 5/5 stars.
J C
Rappers can try to act, so why can't skateboarders? I remember first hearing about this flick on Rob Dyrdek's Fantasy Factory a couple years back. I started watching it after Rob & Big went off the air. If Rob can think it up, he can most likely make it happen. Along with the acting portion, Dyrdek helped with the screenplay and produced the movie. Street Dreams revolves around a high school aged kid played by professional skateboarder Paul Rodriguez, Jr. Like every single kid that dreams about turning pro, he must prove himself worthy by finishing up his video shoot and landing that perfect trick. Probably my favorite part about this film (besides the actually skating) is that the main characters are all from Chicago. Being that I am a die-hard Chicago fan of mostly everything. I thought the film got off to a slow start, but picked itself up. Probably the worse acting was done by pro skater Ryan Sheckler. He needs to just stick to the board and reality TV. The musical soundtrack of the film was definitely something that kept me interested too, they did a great job with that. A lot of nostalgia came out of listening to some of those tunes; most notably alternative artists Linkin Park and Plus 44. The acting was B-list at best, but that didn't come to any surprise given a fictitious documented skatboarding movie. I could see that Dyrdek was just trying to have fun while he simultaneously starred in a movie that spread the word on skateboarding. Check that off the bucket list, sir. To this day I still wear a pair of skateboarding shoes and can relate to that scene in my childhood. I was never that good at skating, but I had a board and tried my best when I could. Mostly the clothes on my back and the music in my ears represented the scene. Overall this was a decent movie. Better than expected. If you at all appreciate skateboarding, then I'd check it out. 6/10 Stars. Additional side note: It was tough to see Jackass's own Ryan Dunn acting in this film. Not cause he's a bad actor; I actually thought he did a fine job. But, because of his passing away not too long ago. R.I.P Ryan.
Craig Nuzzo
Very clever and sends a very strong message to all young skaters all over the world. as a street skater i know it is not easy to skate where ever you want. Very well done a instant classic in my book.
Michael Sanford
Street Dreams Quotes
There are no approved quotes yet for this movie.
Discussion Forum
Discuss Street Dreams on our Movie forum!