The Narrows
(2008)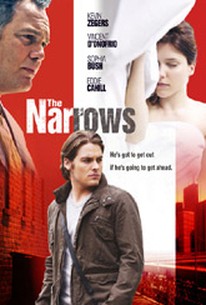 Movie Info
A 20-year-old man at a crucial crossroads in life finds himself caught between two worlds and two women in director François Velle's feature adaptation of author Tom McLoughlin's original novel Heart of the Old Country. Mike Manadoro (Kevin Zegers) is a Bay Ridge, Brooklyn shutterbug who lives with his father, Vinny (Vincent D'Onofrio), a former Department of Sanitation worker who is now retired on disability. Despite the fact that Vinny is officially retired, he still manages to draw a healthy income thanks to his side job as Bay Ridge's main numbers runner. It's Mike's job to drive his father on his "rounds," and while Vinny is taking care of business Mike passes the time by snapping pictures of the neighborhood locals. Seeing great promise in Mike's impressive portfolio, an influential professor offers the amateur photographer a partial scholarship to a high-profile university in Manhattan. It's the opportunity of a lifetime to be sure, though Mike soon finds out that there are strings attached. Unfortunately for Mike, Vinny is a proud man who refuses to allow his son to seek out financial aid. But Vinny has underestimated his son's desire to accomplish something more in life, and before long Mike is leading a double life in order to forge ahead into the future. Unbeknownst to his father, Mike accepts a job delivering "packages" for a local mobster named Tony (Titus Welliver). But while the job does help Mike bring in the cash he needs to cover his tuition, his two worlds begin to collide after he meets beautiful and refined fellow student Kathy (Sophia Bush). Unfortunately Mike's longtime girlfriend, Gina (Monica Keena), is none too happy about this latest development, and the situation quickly begins to spiral out of control.
Critic Reviews for The Narrows
Audience Reviews for The Narrows
½
This was pretty good. I don't really watch a lot of movies in this genre, so perhaps it is cliched as some of the other reviewers seem to suggest, but I haven't seen enough of them to notice! Kevin Zegers and Sophia Bush really make this movie - I found them both convincing and they had good chemistry together.
Nicki Marie
Super Reviewer
Kevin Zegers, Vincent D'Onofrio, Sophia Bush, Monica Keena, Titus Welliver, Eddie Cahill, Roger Rees, Michael Kelly, Tony Cucci DIRECTED BY: Francois Velle The movie is based on Tim McLoughlin's novel "Heart of the Old Country", which see's Mike Manadoro (Kevin Zegers), a 19 year old Brooklyn boy who is torn between two worlds. When Mike's photography portfolio wins him a partial scholarship to NYU, he must figure out how to balance his tight knit Italian neighborhood roots in Bay Ridge with the opportunity to emerge into the expansive, sophisticated world on the other side of the East River. His job at a local car service doesn't earn him enough to make up for the rest of tuition. His father, a retired sanitation worker on disability, refuses to support Mike's attempts for financial aid out of pride. Mike ultimately takes a job making deliveries for Tony, the local mob boss, to make up the gap. Mike not only has to balance work with his academic assignments, he has to manage his personal relationships as well. This includes his attraction to a beautiful, cool, intellectual young woman, Kathy Popovich (Sophia Bush) he meets at NYU with his responsibility to his long term, girlfriend Gina (Monica Keena) from the neighborhood he's promised to marry. The stakes grow higher as he faces consequential choices in turning his back on all he knows and pursuing a new life. This compelling coming-of-age story combines suspense, murder and loyalty. Yes, many movies like this have been made before and yes it's probably like another mob movie you have seen. The difference? There probably isn't one. But I still think this movie was good. Nice story, good acting, and some likeable characters. Yes it's just another mob story, but it's a good mob story. I liked it a lot actually. Found myself very much into the story and it kept my attention throughout. Kevin Zeger's was great. I really liked him in this movie. But my favorite had to be Vincent D'Onofrio who play's Kevin's father in this film. He was awesome. Loved his character. Great role for him. This film even has a little bit of some twists and turns which I really liked. The ending was great. A little predictable, but the father is the one with tricks at the end of the movie. Really liked Sophia Bush in this film as well. She doesn't have a big part, but she is definitely part of the outcome in this movie. It's just a good mob story with good acting and all the good mob stuff like lying, stealing, killing, and betrayal. A movie I would see again.
♥˩ƳИИ ƜѲѲƉƧ♥
Super Reviewer
The Narrows Quotes
There are no approved quotes yet for this movie.