Vampiro
(2009)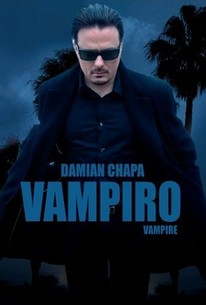 AUDIENCE SCORE
Critic Consensus: No consensus yet.
Movie Info
The gritty streets of East Los Angeles get even more dangerous with the arrival of a sexually ravenous coven of vampires in this low-budget Mexican-American horror film. When East L.A. resident Blanca (Vida Harlow) finds herself targeted by a seductive female vampire, Sexicana (Leslie Garza), she finds support from an unexpected source: a half-human/half-vampire hybrid named Casanova (Damian Chapa), who falls in love with the girl and vows to help her rid the barrio of the bloodsucking horde. ~ Sandra Bencic, Rovi
Critic Reviews for Vampiro
There are no critic reviews yet for Vampiro. Keep checking Rotten Tomatoes for updates!
Audience Reviews for Vampiro
I'm one of those person who never got into the whole Twilight sensation as I felt those movie weren't doing a good job bringing back the Vampires genre in horror movies. Yet after this mess of a movie it's makes Twilight look like a masterpiece. Half-human and half-vampire Casanova Vladimires, played by Damian Chapa who's a bad actor, protects humans and fights vampires in East LA. Unfortunately I had to hear Chapa boring voice over for like thirty minutes which get worse as it progress. It was so boring that I actually had to put a electric dog collar around my neck and shock myself to make sure I didn't fall asleep. Now I don't know about you, but I definitively never heard of a Vampire that can time travel, apparently they can according to this movie. The voice over really doesn't makes things any better as I had rewind some scenes to figures out what the hell was going on, and it's not worth your time. Now what really pisses me off is the racist depiction of Mexican Americans, which makes it all the more confusing seeing that it was made by Mexican Americans. The characters are also racist, we get a white character named Blanca and, Sexican, unfortunately she didn't die sooner in the movie. It's also has some bad Spanglish, I would rather read subtitle than hear this awful dialogue. Once again it's really racist, and I will not stand for this level of racism in any movie. The worst part about Vampiro is that is has some really stupid moments. Like when Sexican and Blanca are about to get rape by some racist depiction of Chicano while playing weird music. Also, what the Hell is up with the awful music playing in this movie. One thing I consider to be a example of poor writing is when a boat is burned down by Sexican and we're told the boat got burned. Then in a later scene we see Chapa being told that his boat got burned down when he's on the same boat that supposedly burned down. Another example of poor writing is that we see these Vampires run in daylight for most of the movie and then out of nowhere they get hurt by the sun, even more flaws. Then apparently according to Chapa character Vampires fear the Ocean because Sharks can kill them, but we don't get see that and instead Chapa kills them with obviously fake bullets with a shotgun. Not only is this the most racist movie i've seen so far, it also has some of the worst acting i've seen in horror movie. Twilight is no Nosferatu, but at-least it's not The Birth of A Nation in racist depiction when it comes to Mexican and Chicano like Vampiro is.
Caesar Mendez
Super Reviewer
Vampiro Quotes
There are no approved quotes yet for this movie.
Discussion Forum
Discuss Vampiro on our Movie forum!