The Horse Boy
(2009)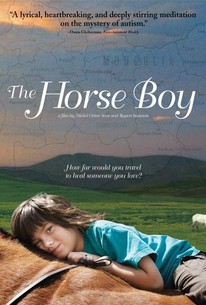 TOMATOMETER
AUDIENCE SCORE
Critic Consensus: It traces a familiar, albeit inspirational arc, but The Horse Boy tells a moving tale of parental devotion with grace and sensitivity.
Movie Info
The Isaacsons raised their autistic son with patience and hope. Unlike any other loving family, the Isaacsons travelled to another continent in search of a remedy that Western medicine could not provide them.
News & Interviews for The Horse Boy
Critic Reviews for The Horse Boy
Audience Reviews for The Horse Boy
I can't find the words that can accurately describe this documentary story. Mad and unbelievable, but also, so moving.
Zelyaine T
This is a very interesting movie that will keep you intrigued by its unique true story. It certainly will get you thinking and probably keep you talking about it afterward. Any parents of children with Autism should find this movie particularly relate-able and engrossing.
Sean Cosgrove
At first I laughed this movie off as ridiculous - lumping this in with the loads of works of shallow folks who claim that autism can be erased, or reversed, or dismissed as if it were a common cold. Let me tell you this straight out - it isn't about that at all. The spiritual quest is real, and Rowan is much, much better off because of his father's willingness to embark on it. Rowan began his autistic state as a boy who was so neurologically scrambled that he would have screaming fits that left him breathless and remote. He would refuse to use the toilet, and he was unable to communicate the most basic strings of concepts to anyone, let alone his parents. Doctors could see no hope; therapists secretly gave up hope while continuing to accept paycheck after paycheck on the outside. Life, simply put, was a mess. On film, Rowan is a wild creature with a language all his own, running around muttering indecipherable words with a grin. Reading this movie's companion book really helped me understand just how important it was when he would break out of his spell and act like a normal little kid - asking someone why they were doing something, playing with Tomoo (the son of one of the guides) and remaining unphased when one of his toy animals went missing. The trek to the shamans is long and arduous; the shamans' work, at first, seems a little inane. But what I loved is that Rowan really does get better after this movie ends, and as I said above, you can see it as the film progresses as well. The shamans are able to provide answers surrounding Rowan's autism that actually made sense, and so I started to also feel better about Rowan's mental condition overall as well. This provided a better look into something that no one in Western medicine really understands... and I believe it is a step in the right direction towards what we should be doing for these kids. Autism is not a life sentence to something horrible; rather, as Rupert says, it is a personal quirk that suggests an aptitude for a special place in society. Much of the inventions we have today would not have been discovered if it were not for people with this condition. I found it interesting that this movie interviewed a functioning adult woman, Professor Temple, who said that she would not erase her condition if she had the opportunity. "I like the clarity of mind that I have," she says matter-of-factly. Hmmm. It seems to me that Rowan, despite his strange ways or perhaps because of them, is a very advanced soul. Maybe it's because the shamans tell Rupert that it is his destiny to understand things that most Westerners don't bother with and become a teacher in his own right. Perhaps Rowan's symptoms were merely growing pains for the type of work that he must do in the future - who knows. What research should be focusing on are ways to relieve the most intense types of autistic suffering (neurological breakdowns, incontinence, hand flapping) and then build on that person's passion. Let them immerse themselves in what they adore most - it can't hurt to have another absolute expert in the world on trees, trains, cars, you name it. This movie opened a door for me toward really wanting to explore how other people see the world. I oftentimes wonder what life is like for Rowan, in that autistic mind of his. It sounds like he is doing very well right now, learning more than ever and becoming a most definitely well-adjusted human being. Saying this, let me backtrack a little to the part in this movie where Rupert sings this song "Over the hills and far away" to his son. Such an old song really touched a chord within me, because it almost made me feel as if Rupert and Rowan had been together in a past life and now return in this one to finish some necessary work for the world as an act of love. What a wonderful thought. Rowan, I wish you well.
Jennifer Sundt
The Horse Boy Quotes
There are no approved quotes yet for this movie.
Discussion Forum
Discuss The Horse Boy on our Movie forum!