Storm Warning
(1951)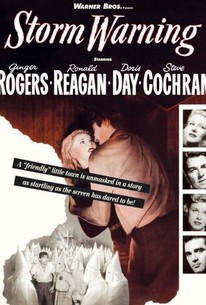 AUDIENCE SCORE
Critic Consensus: No consensus yet.
Movie Info
In Storm Warning, Ginger Rogers stars as a model visiting relatives in an unnamed small town. She happens to witness the beating death of a man at the hands of the KKK. Rogers soon discovers that the whole town is controlled by this vigilante group, and that her loutish brother-in-law Steve Cochran is one of the group's members. D.A. Ronald W. Reagan is the man who breaks the stranglehold of the hooded terrorists--through the simple expedient of walking into one of their meetings and calmly identifying each of them by name.
Critic Reviews for Storm Warning
All Critics (2) | Fresh (2) | Rotten (0)
This well acted melodrama, starring Ginger Rogers, Doris Day, and Ronald Reagan, depicts the KKK terror reign over a typical American small town.

Good on spectacle but trivializes the serious subject of race hatred with an inadequate depiction of the KKK.

Ozus' World Movie Reviews
Audience Reviews for Storm Warning
Extremely predictable and unfortunately it doesn't deal with racism but with the KKK's intimidation of outsiders to their town which leads to a death. The witness (Ginger Rogers) of the murder notices two men who take off their hood and is a little shaken up when meeting her younger sister (Doris Day) and is surprised when the killer (Steve Cochran) turns out to be her sister's new husband.
Joseph Boomhower
Super Reviewer
½
Interesting film filled with great scenes--both the small town settings and the wild KKK meeting in the woods. The opening ten minutes is so shocking for its time it will really make you perk up. This film began with a noir edge. While visiting her sister in a small town, a woman witnesses the murder of an expose reporter by members of the Ku Klux Klan. Ginger Rogers and Doris Day were odd choices for these dramatic roles, but they manage to pull off a more than credible effort. When she meets her brother-in-law, Rogers realizes he is the murderer. The first 30 minutes of this film are riveting, owing primarily to Ginger Rogers' subtle and restrained performance as the witness. She doesn't have much dialog but emotes with body and expression beautifully. Notable is the five minute scene where Rogers meets her brother-in-law and, realizing her sister has married a murderer, freezes in horror unable to speak. The level of tension is palpable. This tension dissipates for awhile until the ending where Ginger is in real danger. Steve Cochran was excellent as the loud mouth lout murderer. The interaction between he and Ginger Rogers was what keeps viewer's attention and interest, as they flashed anger combined with an undercurrent of lust at each other. Things really sparked when Steve and Ginger were on the screen. The crux of the movie is whether she will testify at the inquest as to what she witnessed; with the knowledge what that would mean to her pregnant sister. Ronald Reagan, in one of his best performances, cast as the crusading District Attorney who pressures Ginger Rogers to testify to what she witnessed. His strait laced qualities made him a better choice for the lead than more liberal leaning actors because he fits so well into the small town setting. Doris Day, in a non singing role was fine as the younger sister and wife. There is a shocking and violent scene at the end where Reagan saves Ginger from a flogging, denouncing the Klan members and pointing out that he knew who they were even with the robes and hoods, and denounces them for "desecrating the cross". Alas, he could not save Doris Day from being accidently shot. Many people criticized this film because it did not portray the Ku Klux Klan in a harsh enough light, but this did not deter from the crux of the film: whether Rogers will testify, will the guilty be convicted and what will be the consequences.
John Tandlich
½
Boy are there things wrong with this movie, but as a time capsule its worth a view. Doris doesn't sing a note, actually its one of her strangest roles.
Storm Warning Quotes
There are no approved quotes yet for this movie.
Discussion Forum
Discuss Storm Warning on our Movie forum!