The Butcher
(2008)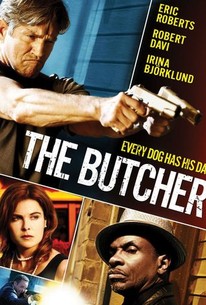 AUDIENCE SCORE
Critic Consensus: No consensus yet.
Movie Info
A mob enforcer is set up to take the fall for a multi-million dollar heist involving a rival gang boss. Merle (Eric Roberts) is a gambler stuck on a twenty-year losing streak, but his luck is about to change. Surviving a trap that was intended to kill him, Merle makes away with a beautiful woman and a piece of the take. Most men in that position would have been content to simply walk away with their lives, but Merle has been loyal for twenty years. Realizing he's been betrayed, something inside snaps. They used to call him "The Butcher" as a joke, but the laughter turns to screams when Merle returns to deliver the ultimate punchline.
Rating:
NR
Genre:
,
Directed By:
Written By:
In Theaters:
On DVD:
Runtime:
Studio:
Critic Reviews for The Butcher
There are no critic reviews yet for The Butcher. Keep checking Rotten Tomatoes for updates!
Audience Reviews for The Butcher
The above description, photo, and film length are not for the film I am reviewing, but the year is the same and it was directed by Kim Jin-Won. I am reviewing the South Koren cinema-verite/found-footage horror film directed by Kim Kin-Won. That being said, I don't recommend The Butcher. A cross between the American August Underground films and the Japanese Guinea Pig films, The Butcher has an interesting premise: it alternates between the killer's viewpoint and the viewpoint of the victims who have had cameras strapped to their heads. What developes alternates between boring for the most part and completely twisted and sickening in snippets. Unfortunately, The Butcher makes August Underground's Mordum seem like a film with substance. It is just pure exploitation fare. Like some of the Guinea Pig films, it feels almost like pornography with staged mutilation instead of sex. Mostly boring, The Butcher is genuinely twisted when its plot is not dragging, which is saying something given its 75-minute run tim, but it is a film without depth that will only make you feel degraded for watching it.
Al Miller
Available on Netflix Instant Watch Well it's certainly bloody! It kicks the shit out of any American torture porn and it does the handheld thing right.Sadly, there's not enough character development to carry the movie, but that isn't really what this genre is about and to my recollection, only the French new wave of horror has gotten character development in torture porn correct anyways. Not any awesome displays of gore effects besides that the blood is nicely colored. I don't hate it, but I can't celebrate it. Fair game for all you torture porn freaks! Most Fucked Up highlight: seeing things from the victim's angle as he is raped by the giant pig-headed butcher
_kelly .King
Super Reviewer
"The Butcher" holds up, but digs it's own grave! "The Butcher" "The Butcher" is a 2007 South Korean Horror film Directed by Kim Jin-Won. The film is shot in a Cin`ema V`erit`e style depicting a point of view perspective for both the victims and killers. The hand held and lower resolution head mounted cameras bring you up close and personal for a snuff film in the making, that is "The Butcher". Cin`ema V`erit`e, I get it, supposed to promote a naturalistic appearance of sheer terror, but for the first 15 min, I had nothing-nothing but heavy screaming, sniffling and moaning. I had to actually turn the volume down so my neighbors didn't think " what the hell is he watching in there". The problem was even if the neighbors thought" what is he watching"? I was getting nothing ,I couldn't see anything, all of this torture was not seen on camera. The film begins with two characters appearing to be delivering more victims to an abandoned slaughterhouse for their eminent (off camera viewing) death. "The Director" and "The Assistant" arrive in the gloomy chamber to see the latest lineup of soon to be eradicated. The subjects appear to be stripped down to their undergarments and bound. The editing debacle that is excessive film cutting from the "The Director's"perspective to the "soon to be dead, but you won't be able to see anything peeps side of things". Shots of darkness, walls, doors and more dark areas in the room, to a conversation with the "Director" accepting a phone call from his mother, asking if he will be attending Church. A few at a time people are taken back into another area, where more screams are heard and a chainsaw screeching at full throttle, held by a pig mask wearing, man raping psycho, f-ing people up.. At this point the only butchering going on is on my patience, desperately anticipating for any kind of clarity. 32 min into "The Butcher" and finally a hint of a not so shaky camera scene, bringing my attention into full focus. A man who moments earlier tried to escape, is brought back into the torture chamber with his wife and sat in chairs opposite each other. The floors are covered with plastic and blood is everywhere. Cue more of the whimpering and crying, but wait? An actual story begins to unfold( a pretty good one too). With a mere flip of the coin, a choice will have to be made for their survival! "The Butcher" teetering on decency, takes such a long time before any real substance or development is ascertained makes it a dissapointment of a film and loss of a good 32 min in the first act and at least 10 more in the last one. On a $15,000 budget much cannot be expected, yet another 2007 blockbuster on the exact budget made $100 million (Paranormal Activity). Kim Jin-Won seems to drag this one on in all the wrong places. Loaded with meaningless filler to set the mood and tone are a waste. "The Butcher was great expectations, a great idea, only to deliver letdown. If anyone can hang on past the 30 min mark, "The Butcher" becomes something else...a little better movie. The FX when they finally came were great. I beg to differ with those who categorize this film as "Torture Porn" This film should not even be mentioned in the same sentence as the sub-genre. "Torture Porn" in my opinion is good...this film was close, but wasn't. "The Butcher" was that 80yd pass right in the hands of rookie Director Kim Jin-Won only to be dropped in the end zone with time expired. BruceVain http://blog.brucevain.com
Tony Mulcahy
The Butcher Quotes
There are no approved quotes yet for this movie.