White on Rice
(2009)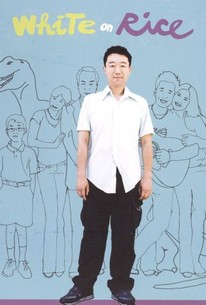 Movie Info
"White on Rice" is the comedic story of Jimmy, a misguided 40-year-old divorceé, trying to navigate his way through a new life in America and out of his sister Aiko's basement. Disgraced by his disgruntled brother-in-law Tak, the immature yet adorable Jimmy spends his nights searching for a new wife who shares his love of dinosaurs and geology. Things go horribly wrong when Jimmy falls desperately in love with Tak's niece, the beautiful Ramona, and vows to steal her away from his co-worker Tim. Meanwhile, Bob, Jimmy's nephew and bunk bed-mate harbors a secret talent that holds the key to rekindling the passion in his parents' marriage.
Critic Reviews for White on Rice
Audience Reviews for White on Rice
The main character in this film is so socially inept and awkward that it's almost uncomfortable to watch, which hurt the overall flow of the movie for me. It's cutesy and fairly entertaining, but I wouldn't be likely to watch it again because at times it almost seems it's blatantly making fun of someone slow-witted and innocent. Because of that, I can't rave about this film, but it's not terrible.
Amanda Hendsbee
A kind of 40 year old virgin with a mostly Japanese cast. All the best bits were in the trailer. The hour and a half run time adds nothing but awkwardness. This is an example of a quirky independent flick going too far over the edge.
Byron Brubaker
Super Reviewer
If I followed the little, parental life lesson of "If you don't have anything nice to say, don't say anything at all", my review of White on Rice would have ended 30-plus words back. The last time I saw a movie this bad (that SNL-inspired, Will Forte Oscar-hopeful MacGruber) I tried to sum it up in a word. That movie's word was "insufferable" and I think White on Rice's one word would have to be: Ugh. A fair share of individuals will enjoy this odd-duck of a film; but I am not one of them. This is an Asian Napoleon Dynamite -- a film I detested more than rough, single-ply toilet tissue one finds in public restrooms. It is just NOT my type of humor and more power to those who can and do laugh at it. If one likes/liked that Jon Heder movie (and I know a LOT of people did), than they would probably enjoy this one although there are a few subtitles thrown-in here and there (some characters can speak English and others cannot -- it is realistically random here). I am simply not a fan of "art for art's sake" as there needs to be a real reason for something ... and White on Rice is a movie that is intentionally "odd for odd's sake" which just kills me (like several stabs with a butcher knife kill; 8 or 9 bullets shot at me kill; a large air bubble in an I-V kill; a machete hacking off a few remaining limbs kill; eating food from a dented can kill; going headfirst into a woodchipper kill; becoming the tail-end of a human centipede kill; arsenic poisoning via elderberry wine kill; being a snack to ravenous wolves kill; being suffocated with a ginormous feather pillow killl -- OVERKILL just like White on Rice!!!!). What bothered me most about Napoleon Dynamite is what also bothers me here: the filmmakers want us to laugh AT our main character, Jimmy, and not WITH him (Jimmy is played by Hiroshi Watanabe of The Last Samurai and Letters from Iwo Jima [he is not to be confused with the respectable Watanabe -- Ken -- American audiences know from those same films]). I find this type of humor mean-spirited as it implores one to "laugh at this doof because he is so pathetic!" The film is a FAIL as it goes for laughs at Jimmy's expense instead of using the promising plot of the film to generate them. The storyline IS funny but the movie isn't as the director squandered this premise: the unintentionally clueless slacker, Jimmy, shares a bedroom/bunk bed with his nephew because his sister is too nice to throw him out of her house although her husband loathes him and wants him gone-gone-gone just as Jimmy starts falling for this brother-in-law's niece who is sleeping down the hall in the guest bedroom as she is spending some quality time with her uncle's family (ohhhh noooo -- the potential problems and the hilarity that could arise!!!!). Sadly it never does because we are supposed to be laughing at Jimmy (yes ... still). Like I said: Ugh.
Thomas Williams
White on Rice Quotes
There are no approved quotes yet for this movie.
Discussion Forum
Discuss White on Rice on our Movie forum!