Moonlight Serenade
(2009)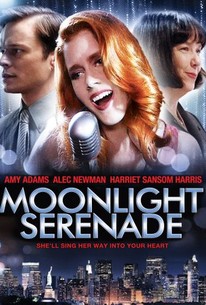 AUDIENCE SCORE
Critic Consensus: No consensus yet.
Moonlight Serenade Photos
Movie Info
A moonlighting jazz musician performs alongside a coat check girl with a voice of gold in this musical drama from director Giancarlo Tallarico. By day Nate earns his keep as a financial manager, but when night falls he's up on stage at the jazz club, performing for the crowd. One night, Nate is in his apartment when a sensuous voice drifts though his window. The voice belongs to Chloe, a beautiful girl who works in the club. Intoxicated by Chloe's sensual singing, Nate invites her up to share the stage and it isn't long before the pair realizes that they're on to something truly special.
Critic Reviews for Moonlight Serenade
Audience Reviews for Moonlight Serenade
A stock broker and a jazz singer form a musical partnership and fall in love. The music is good, especially if you like nightclub jazz, but aside from that, this is a bad film. With dialogue that "tells" instead of "shows" - lines like "When he plays, he's giving you a piece of his soul" and characters that set up outright dichotomies between financial management and music - the script is poorly written. Even the set design is amateur; that office hardly looks like a multi-million-dollar operation, and the nightclubs are copied out of an 40s black and white noir. Amy Adams and Alec Newman do their best, but there's no performance that can make anything about this film believable. Overall, a good soundtrack doesn't make a good film.
Jim Hunter
Super Reviewer
½
I expected a bad film, but honestly I've seen much worse. Probably the equivalent of a cheap TV movie, but I found this to be entertaining. I only watched it for Amy Adams. It was interesting because this didn't seem like the type of movie she'd be in during 2009, but when I read a little about the film I realized that it was actually made in 2005...meaning this was Amy before Enchanted and Junebug even. Decent film at best. I enjoyed the music scenes and Amy Adams has a fabulous voice.
Jameson Worley
Super Reviewer
½
Hmm.. really not the best. I couldn't understand why i had never heard of this fairly recent movie starring Amy Adams - having sat through it, yes it makes sense! I would say this is a tv movie, or it feels like one. The acting is pretty bad - even from Amy, and I generally like her. Plot is slight. I don't quite know what they were trying to go for here. I think it is meant to be romantic, but it's not all that convincing and nor are the singing bits really. It's not the worst movie I ever saw, but it's definitely missable.
Nicki Marie
Super Reviewer
Moonlight Serenade Quotes
There are no approved quotes yet for this movie.