Ichi
(2008)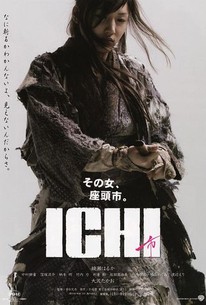 Movie Info
Director Fumihiko Sori simultaneously reinvents and continues the Zatoichi legend with this tale of a blind, wandering musician who was trained in the art of one-handed sword fighting as a young girl. Ichi (Haruka Ayase) learned how to wield a sword with the help of a blind masseuse. These days she keeps her sword concealed in her cane, only drawing it when the situation necessitates. She's searching for the man who trained her, the man she believes to be her father. When Ichi is ambushed by a group of vicious gangsters, a sympathetic samurai rushes to the rescue. But Ichi can fend for herself, and before long she's saving his life. Traveling together to a nearby village, the duo later encounters a young orphan, who becomes their guide. It seems that a disfigured gangster named Banky (Shidou Nakamura) has the village in his iron grip. Even the local yakuza head has failed to end Banky's reign, a fact that the crime boss' ambitious son doesn't take lightly. When Ichi gets drawn into the fray, swords start swinging. ~ Jason Buchanan, Rovi
Audience Reviews for Ichi
½
A small town terrorized by a clan of bandits find their only hope of salvation in the shape of a wandering minstrel and a pacifist samurai who is unwilling to draw his sword. The mantle of Zatoichi is passed on to the blind swordsman's daughter who has become so bitter at her condition and treatment in life that she has become indifferent to the suffering of others. Ichi may not be uber-original in its themes or plot but they are approached with enough sensitivity and maturity to create characters you not only root for when the blood starts spraying, but also care about. Our heroes are not the usual gung ho tough guys and are in their own way as damaged as each other, making for a much more interesting character dynamic than the usual hack and slasher. Having a female protagonist draws obvious comparisons with Azumi but it shares enough of the flavour of Yojimbo and The Twilight Samurai to make it feel a bit more adult, despite some rather over-ripe performances from the villains. Not as cerebral and artful as Beat Takeshi's reinvention but still a worthy addition to the long running franchise.
½
Imagine if Zatoichi the Blind Swordsman had an adopted daughter that was also blind and that he taught his sword skills. Also imagine that he left her at goze house as he went out on his travels, and she grew up to be a skilled musician. That's basically Ichi, a satisfying spin on the long-running saga of the blind swordsman. The plot centers on Ichi's search for Zatoichi (who has been missing for quite some time), her tragic back-story, a feud between two yakuza gangs in an inn town, and a traveling warrior that eventually befriends Ichi. Haruka Ayase makes for a good (and absolutely gorgeous) Ichi, and plays her as soft-spoken, reserved and stoic while letting her determination, dangerousness, and lighter side break through when appropriate. Ayase is also great in the action scenes, which are pretty well done and bloody without crossing the line into gory. I liked Ichi. There's nothing groundbreaking about it, but I enjoyed the characters (even though the antagonists are unfortunately two dimensional) and the balance between fighting and character development/story is excellent. This isn't a pure action film by any means, it's fairly leisurely-paced outside of action scenes (Ichi doesn't play around with her enemies). There's more than enough here to make the story of the blind swordsman(woman) worth visiting again.
It is a fairly traditional version of 2003's Zatôichi, though Haruka Ayase has a one-two punch of strong acting and good lucks. Dressed in rags, glowering, and compelling, Ayase is entirely convincing. The swordplay sequences are shot in mixed slow and regular motion, digital blood spurting everywhere. Despite the carnage, her blade is always clean, her fingernails perfectly manicured, and always looking breathtaking under the worst of situations. IchiI is not, however, about realism; it's an adventure-romance, and anyone looking for complete accuracy will be disappointed.
Dean McKenna
Super Reviewer
Ichi Quotes
There are no approved quotes yet for this movie.