Eid milad Laila (Laila's Birthday)
(2008)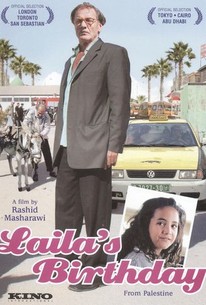 Eid milad Laila (Laila's Birthday) Photos
Movie Info
A taxi-driving judge attempts to keep his promise to return home with a birthday cake for his young daughter while contending with everyday life in occupied territory and doing his best to keep unruly passengers in check. Abu Laila is a judge, though despite being invited to practice in Palestine bureaucracy has prevented him from procuring his papers. Today is his daughter's birthday, and if he can somehow maintain his sanity amidst the chaos of the outside world he plans to buy her a cake so they can celebrate later that evening. Cigarettes are banned from Abu's cab, as are AK-47s. And while contending with the occupiers harass him at every turn is no easy task, Abu's greatest challenge is often convincing his passengers to buckle their seat belts.
Critic Reviews for Eid milad Laila (Laila's Birthday)
Audience Reviews for Eid milad Laila (Laila's Birthday)
A heartwarming, hard-hitting slice of life that flirts with the absurdity of life in wartime. Very Kafka, full of bleak humour and featuring a protagonist you can't help but root for. Beautiful film that more people should see.
Daniel Perry
Super Reviewer
This film depicts a day in the life of a Palestinian judge-turned-cab-driver. I'm torn about Laila's Birthday. On the one hand, I think it's essentially a political film, and the film rarely rises above its political point to become about real people; oftentimes political points are best made when they're subtly worked in to the action. That said, I must note that I am entirely sympathetic to the film's politics; there's no issue more clear-cut in my view than how brutal and debilitating the violence inflicted on the Palestinians by their occupiers is. On the other hand, the film avoids demonization of Israel. In fact, most of the inconveniences Abu Laila faces are caused by his countrymen. This is a mature approach that avoids easy polemical binaries. So, its weakness - its overt politics - is related to its strength - its unique approach at politics. For many Americans, who may not be familiar with everyday life in Palestine, this is a very good film to watch. It shows how Palestinians' existence is limited but not defined by colonization and certainly works against the myths that all Arabs in the region are gun-toting terrorists. Overall, I think a less constrained, more revealing performance by Mohammad Bakri and a greater focus on Abu Laila would have made the film less overtly political and subsequently stronger.
Jim Hunter
Super Reviewer
½
Sometimes the most effective way to tell a story is let the audience come close to getting first-hand experience. Laila's Birthday gives us a glimpse of what life looks like for Abu Laila, a Palestinian judge who is trying to make a living driving a taxi. This film offers a powerful meditation of life in the most volatile part of the world. Laila's Birthday is gentle, real and poignant. Great ending.
Cynthia S.
Super Reviewer
Eid milad Laila (Laila's Birthday) Quotes
There are no approved quotes yet for this movie.