All the Best: Fun Begins
(2009)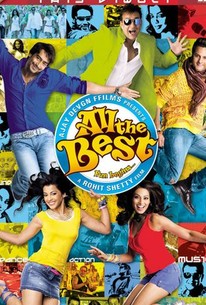 AUDIENCE SCORE
Critic Consensus: No consensus yet.
All the Best: Fun Begins Photos
Movie Info
A car fanatic named Prem (Ajay Devgan), his gorgeous wife, Jhanvi (Bipasha Basu), a promising young rock star named Veer (Fardeen Khan), his radiant girlfriend, Vidya (Mugdha Godse), and Veer's wealthy stepbrother, Dharam (Sanjay Dutt), are the central players in director Rohit Shetty's boisterous action comedy. When debt and a case of mistaken identity send the lives of five people into utter chaos, it's a mad scramble for them to sort through the lies and get their lives back in order.
Rating:
NR
Genre:
, ,
Directed By:
Written By:
In Theaters:
On DVD:
Runtime:
Studio:
Critic Reviews for All the Best: Fun Begins
All Critics (1) | Fresh (0) | Rotten (1)
[All the Best] can't be saved by its fleetingly stylish musical numbers and car chase sequence. It ultimately overstays its welcome and falls flat as a comedy with often annoying and cartoonish characters and too much repetitive, forced humor.

Audience Reviews for All the Best: Fun Begins
Far better than what I'd expected after being disappointed twice in a row by Rohit Shetty via his disastrous "SUNDAY" & "GOLMAAL RETURNS". I'll also like to add that I was quite glad to see Johnny Lever back in form again after a long time.
familiar stranger
Super Reviewer
One of the most finniiest indain movie even made.I LUV IT 100x/luv the actors madddddddddddddddddddd funnnii.Luv Ajay Devgan in this movie.hes maddddddddddddddd funnii in this movie.I laugh till my belly starts to hurt wen i watch this movie.LUV IT!!!!!!!!!!!!
shaliza wahab
There is one thing conspicuously invisible in 'All The Best' …. The Director - Rohit Shetty. Not that he has any noteworthy cinema riding on his back with forgettable works such as Golmaal, Golmaal returns (??!!), Zameen and Sunday but this time around, it's as though the actors Ajay Devgan, Fardeen Khan, Sanjay Dutt, Sanjay Mishra, Johnny Lever and the femme fatales were left on their own with a half page story to work with. Screenplay, script, editing etc are left to the spot boys while the handful of funny dialogues must be conjured up by the actors themselves. Thus, all we get in terms of entertainment are a few funny scenes and dialogues and the rest of the movie being a stale brew of hamming, over-the-top action, loud comedy and silly amateurish scenes that suit a 4th grade school play than a movie with so many actors. All the best is what one could watch on a holiday afternoon when there's nothing better to watch on television. You will kill time instead of passing through it….. some brain cells as well. Fardeen Khan is wasted in a role where he appears to be nothing more than helpless, Ajay Devgan has done better even in Hindustan Ki Kasam with his performance while his aspirations of being a producer are rightly picked on by Dutt's humorous take on it in the movie. Even Johnny Lever had one of his worst roles in the movie where he plays a mute gangster whereas Sanjay Mishra's character does nothing but repeat the same dialogues over and over to the point of irritation. Bipasha does what best she can do with the piecemeal role that she has while that Mugdha Godse may not be seen on the big screen again after this stint. Sanjay Dutt is the only actor who entertains in the movie. All the jokes, quirky dialogues and funny scenes belong to him and he renders them flawlessly. Surprisingly, in all the mess, 2 songs truly stand out by Pritam – 'Haan Main Jitni Martaba' & 'Kyon'. KK & Pritam have given countless hits and this time too, they excel with their combined skills with a rocking track in 'Martaba' while Clinton Cerejo gives his best so far in 'Kyon'. The conclusion is that Sanjay Dutt is the only factor one can sit through the movie that has some bit of humour in dialogues and scenes associated with his character. The rest of the movie is simply forgettable and at the same time memorable for the complete lack of direction in its plot, editing, screenplay, meaning, purpose and authenticity. For a Diwali release, such negligence should be unforgivable. One must subject Rohit Shetty to watch Golmaal & Golmaal Returns ………back-to-back!! - 5.62 on a scale of 1-10.
KUNAL KHANDWALA
All the Best: Fun Begins Quotes
There are no approved quotes yet for this movie.