Inspector Bellamy
(2010)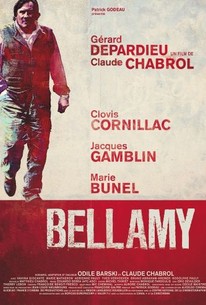 Movie Info
Two of the giants of French cinema, Claude Chabrol and Gerard Depardieu, team up for the only time for the director's 50th and final feature film, a wry thriller about a police commissioner trying to balance professional instinct with family duty. Once again, Paul Bellamy (Depardieu) and his wife are spending their vacation at her family home in a quiet town. But just as they're settling into their reassuringly predictable holiday routine, his perennially troubled younger brother shows up, joined by a mysterious stranger seeking Bellamy's protection.--© IFC
Rating:
G
Genre:
, , ,
Directed By:
Written By:
In Theaters:
On DVD:
Box Office:
$105,893.00
Runtime:
Studio:
News & Interviews for Inspector Bellamy
Critic Reviews for Inspector Bellamy
Audience Reviews for Inspector Bellamy
½
An extremely slow character study masquerading as a mystery. The mystery is low-key and not very interesting, and the interplay between the brothers, Bellamy and Jacques, was mean-spirited and unentertaining. Depardieu and Bunel are really good here, but not great enough to overcome the limping along story.
Don Schick
*Contains Spoilers* Inspector Bellamy, while it follows the French cinema stereotypes, is one of the most beautiful studies of humanity that I've ever seen. This slow French thriller, is absolutely stunning, in its underlining plot, which is fully revealed at the end. The central message is fairly clear, as inspected through Bellamy the people he surrounds himself with is what he becomes. When his thief half-brother comes to visit, he picks up his drinking habit. When he starts a studying his sexually obsessed "client" he becomes fishy that his wife is cheating. But really the film isn't about him studying anyone, but instead a soul search Of himself. Bellamy becomes Noel, his wife becomes Noel's wife, his brother represents the homeless man, and the store clerk represents the mistress. It really is beautiful when the puzzle comes together. Makes me want to watch more from Depardieu, who fits his character perfectly. A must watch of French cinema.
Daniel Dolgin
Super Reviewer
For better or worse, Inspector Bellamy is more of a character study than a murder mystery. Early on a gentleman actually confesses to the crime, so the procedural part of the film really takes a back seat - to the point where you really don't care who done it or why. Gerard Depardieu plays the main character and does an adequate job - similar to David Suchet playing Poirot - full of little mannerisms and a certain gleam in his eye as he pieces together the, frankly, not very interesting case. What is certainly more interesting is Bellamy's relationship with his wife and younger brother, though even there the film teeters on the brink of melodrama, especially concerning the brother. I dunno, maybe because I was reading subtitles, but the film never grabbed me. There were some nice moments between Bellamy and his wife, played out with a slowness and grace born of life experience - but then the script throws in some goofy histrionics that make you shake your head and wonder WTF? Case in point is a scene where Inspector and wife are walking along an avenue discussing not much of anything, when the Inspector stops to make some point or other, and then almost walks into an open manhole, only to be saved at the last minute by wifey. He then shakely tells her that he has always been the lucky one, and that he was lucky to have landed her.... Ok, but throughout the film she keeps reminding him that she wants to go on a cruise - and he keeps refusing her. If he is indeed so lucky to have her, then granting her wish would be a surefire show of his love. But Noooooooo. I suppose that's the point of it all - showing a couple who are as comfortable with each other as an old pair of shoes, and indeed there is a bit of overall subletly in the message, which for me collides with the type of clumsly set up mentioned above. The obvious sybolism here is that, except for the Inspector getting lucky and finding a woman who not only loves him, but understands him, he might have indeed fallen down that manhole and into the same sewer of life that his brother wallows in. Again, I compare to Poirot on Masterpiece Mystery - not the greatest stuff in the world, but a guilty pleasure - I wish I could say the same here as it was the last work of legendary writer/director Claude Charbrol. He makes ze leetle film, but really, there's no point or revelation in what he is "saying" in the film, in spite of the earnest filming.
paul sandberg
Super Reviewer
Inspector Bellamy Quotes
There are no approved quotes yet for this movie.