An Englishman in New York
(2009)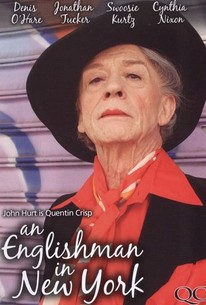 An Englishman in New York Videos
An Englishman in New York Photos
Movie Info
In 1975, John Hurt starred in a BBC television adaptation of Quentin Crisp's autobiography The Naked Civil Servant, playing the flamboyantly gay author and actor, and in 2009 Hurt revisits the role in this comedy-drama based on the latter years of Crisp's life. Crisp rose to fame in the UK following the publication of his memoirs and the success of a one-man show, but when a series of typically frank but witty quips during an interview lead to a public scandal, Crisp is approached by an American talent agent, Connie Clausen (Swoosie Kurtz), who says she can get him work in the United States. Crisp relocates to New York City, where he stages a show entitled "How To Be Happy" and gains a new audience. However, the high camp of Crisp's persona and his habit of making deliberately provocative statements (such as calling AIDS "a fad" and calling homosexuality "a terrible disease") earns him the enmity of some gay activists and causes the show to close prematurely. Clausen arranges for Crisp to meet Phillip Steele (Denis O'Hare), the publisher of the Village Voice, and Steele offers Crisp a job as the paper's new film critic. Crisp's witty and acerbic commentary on new movies wins him a new fan base and he and Steele become close friends, but as age and broken relationships begin to take their toll on Crisp, he returns to the stage in a new show created in collaboration with performance artist Penny Arcade (Cynthia Nixon). An Englishman In New York received its world premiere at the 2009 Berlin International Film Festival; the film takes its title from a song by Sting, who struck up a friendship with Crisp when they both appeared in the movie The Bride.
Rating:
NR
Genre:
,
Directed By:
Written By:
In Theaters:
On DVD:
Runtime:
Studio:
Breaking Glass Pictures
Critic Reviews for An Englishman in New York
Audience Reviews for An Englishman in New York
½
Life Like the Movies It wasn't difficult to get left behind by the changing times of the twentieth century. What was exciting and daring by the standards of the 1930s was quirky and old-fashioned by the standards of the 1970s, and by the 1990s, it was hopelessly dated. Fashion and so forth goes for retro, but attitudes, in general, do not. And so Quentin Crisp, once again beautifully portrayed by John Hurt, found himself remembered as a revolutionary and yet also behind the times. He made his way in life as a wit, which generally means saying the most clever thing he can think to say without worrying overmuch about the long-term consequences. There was a lot he didn't think too much about until it was too late, but the fact that he held himself in a certain amount of disregard personally meant that consequences didn't occur to him even a little most of the time. He was still an icon, and he knew it. He just didn't like it much. Our story picks up again after the first American airing of [i]The Naked Civil Servant[/i]. Quentin is still fabulous, and the people of New York are pretty much divided in their reaction to it. He still gets threatening phone calls from people who aren't big fans of openly gay men. On the other hand, he gets a manager (Swoosie Kurtz). When he decides that he wants to write movie reviews, she gets him a job working for [i]Christopher Street[/i] magazine and editor Phillip Steele (Denis O'Hare). At first, it is the Seventies and the height of the gay sexual revolution, but we then get the Eighties and the rise of AIDS. Quentin at first does not understand the severity of the epidemic. He calls AIDS a fad. He agrees to sit for Patrick Angus (Jonathan Tucker), who ends up dying of the disease. He starts a successful series of stage shows with Penny Arcade (Cynthia Nixon), where he eventually gets into even more trouble with his mouth but doesn't much care. I don't think he ever quite resigned himself to his position as Elder Statesman of the Gay Rights Movement. It was weird for him, especially given that he didn't seem (based on what he says on the subject) to like gay men very much. He had a brief cameo in [i]To Wong Foo, Thanks For Everything, Julie Newmar[/i], and this movie shows his appearance in [i]Orlando[/i]. Doubtless he enjoyed both immensely, but the reason he was cast was so that he could lend a certain amount of gay gravitas to the proceedings, and I'm not sure Quentin Crisp would have known gravitas if he'd tripped over it. And of course, that made the whole thing about his statements on AIDS that much worse, because he supposedly had more authority in the gay community than other people. What he said was perceived as meaning something, and Quentin seldom meant for what he said to mean anything more than a funny line. The idea that anyone really cared about his opinion doubtless both pleased and confused him. This is not a portrayal of the gay rights movement, however. It is one man moving through time, and how and where he moves through time and space means that the gay rights movement kind of happens around him. Oh, it makes life easier for him, because he no longer has to hide who he is. Then again, as we saw in the first installment of his story, Quentin Crisp couldn't hide who he was when he was trying. Perhaps the greatest thing the gay rights movement did for him was that he didn't have to hide anymore. On the other hand, as he so rightly observed, quite a lot of gay men were now pretending to be other people, mostly in the hopes of attracting those they really thought were like that. People who spot other people's hypocrisies are seldom popular with anyone, and that's what Quentin Crisp did. In the early days of the movement, that made him popular. That's what makes him such a fascinating figure for a biopic, even the fanciful kind that John Hurt has now given us twice. It's the only kind you really can have of Quentin Crisp. He wasn't a William Faulkner type; I think that, broadly, you can trust what Quentin Crisp said about his own life. That isn't what I mean when I say that only the fanciful kind of biopic is possible. I mean that Quentin Crisp was a creature of deliberate style, and that the face he presented to the public was the only face he was interested in having seen. A biopic that told all the gritty, sordid details of his life would be the one that he didn't want seen. I think the best way to honour him was to let him be who he wanted us to think he was. That's why the AIDS thing was so bad for him; suddenly, people were taking him seriously, and he never meant to be taken seriously. It's probably what he is implied to have resented so bitterly about the existence of the first movie. Movies crystallize you, and no one knows that so much as a movie fan. And Quentin Crisp's biggest endorsement of life in America was that it was more like the movies than you could possibly imagine.
Edith Nelson
½
What's so eerie (and you can see this is Resident Alien when they chat with each other) is that by this film, John Hurt has gotten better at playing Quentin Crisp that Quentin Crisp, as Crisp himself predicted at the very beginning of The Naked Civil Servant film. This entry does feel more like a made--for-tv-movie whereas I didn't know the first film was anything other than a typical low budget, British-shot, limited release film until they told me so in THIS flick! This one is less literary and more borrowed speeches and autobiographical tidbits, which is okay if you like simmering in exaggerated Crispness. Even though much trauma still happens, this is still the "warm and fuzzy" entry, whereas the first one was very cold and hard. And sadly did not qualify for the "Hot Gay Sex' list.
_kelly .King
Super Reviewer
½
Not nearly as interesting as the Naked Civil Servant but John Hurt's performance is even better and it is a must see for him.
Sunil Jawahir
Super Reviewer
An Englishman in New York Quotes
| | |
| --- | --- |
| Quentin Crisp: | Persistence is your greatest weapon. It is in the nature of barriers that they fall. Do not seek to become like your opponents. You have the burden and the great joy of being outsiders. Every day you live as a kind of triumph. This you should cling onto. You should make no effort to try and join society. Stay right where you are. Give your name and serial number and wait for society to form itself around you. Because it will most certainly will. Neither look forward where there is doubt nor backward where this is regret. Look inward and ask not if there is anything outside that you want but whether there is anything inside that you have not yet unpacked. |
Discussion Forum
Discuss An Englishman in New York on our Movie forum!