The Secrets of Jonathan Sperry
(2008)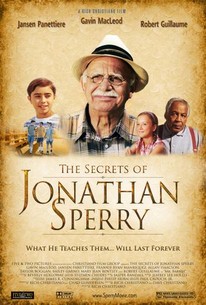 AUDIENCE SCORE
Critic Consensus: No consensus yet.
The Secrets of Jonathan Sperry Videos
The Secrets of Jonathan Sperry Photos
Movie Info
Best buddies Dustin, Albert, and Mark are twelve year old boys looking forward to a summer of fun in 1970. When Dustin mows the lawn of seventy-five year old Jonathan Sperry, a man he has seen at church, a unique friendship develops. What happens the rest of this summer is something Dustin and his friends will never forget!
Rating:
PG (for mild thematic elements)
Genre:
Directed By:
Written By:
In Theaters:
On DVD:
Box Office:
$1,096,348.00
Runtime:
Studio:
Critic Reviews for The Secrets of Jonathan Sperry
All Critics (2) | Fresh (1) | Rotten (1)
Unapologetically evangelical Christian movie from brothers Rich and Dave Christiano stars Gavin Mac-Leod as the titular septuagenarian who has a positive influence on a trio of 12-year-old boys

Arkansas Democrat-Gazette
Its portrayal of patience, kindness, and forgiveness as the life-changing forces of Christianity for those who give as well as those who receive are undeniably touching.

Audience Reviews for The Secrets of Jonathan Sperry
With a bland script and bad acting, The Secrets of Jonathan Sperry is a predictable and heavy-handed film that constantly preaches, but never entertains.
Daniel Peoples
I don't mind a good faith based movie if it tells an interesting story and is designed to have faith as an aspect of that story. This is a story where they set out to bring faith to the masses and added a simple story, albeit with a good message, around that idea. It makes the movie feel more like a lesson and less like entertainment. The acting is okay. The story is too basic and at times boring. I liked it but won't watch it again or recommend it to others.
Don Schick
This rises above most monotonous Christian dramas.. PLOT:Three 12-year-olds including Dustin (Jansen Panettiere) are living a carefree life in the sumemr of 1970. Wehn Dustin goes to mow a lawn, he meets old church-goer Mr. Sperry (Gavin MacLeod) who teaches himself and his friends about God, the gospel, and his plans for life in fun little lessons. Meanwhile, Dustin tries to deal with bullies and crushes not to mention warming the cold heart of the man across the street from Mr. Sperry, Mr. Barnes (Robert Guillaume). It is a somewhat generic Christian plot, but it's executed quite decently. ACTING:This is where the movie's weak. The acting in here mainly sucks. The kids all suck and even some of the adults. The only actors that did well were Gavin MacLeod and Robert Guillaume. SCORE:This was surprising, but the score was actually pretty excellent. OTHER CONTENT:Other than the acting, the other things that brought the movie down were the predictability and lack of suspense. I predicted most of the movie by the time it was half over. There was a twist that I never would've caught though, and also though you knew what was gonna happen, it still was executed enough for you to feel emotion. The lack of suspense simply means that the movie was kind of boring straight through. On the upside, the lessons taught in here helped me realize certain things, but I feel this only works because I am a Christian. If I had not been a Christian, I feel I would have hated this-so my opinion is limited on a critique site. OVERALL,an ok Christian drama with a decently executed plot, sucky acting, excellent score, raging predictability, lack of suspense a.k.a. boredom, and good lessons for Christians.
Kendall Irwin
The Secrets of Jonathan Sperry Quotes
There are no approved quotes yet for this movie.