12 Strong
(2018)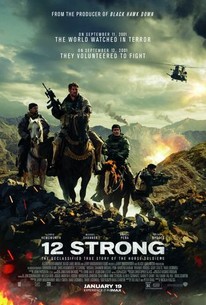 TOMATOMETER
AUDIENCE SCORE
Critic Consensus: 12 Strong has a solid cast, honorable intentions, and a thrilling, fact-based story - all of which are occasionally enough to balance a disappointing lack of depth or nuance.
Movie Info
Chris Hemsworth ("Thor," "The Avengers" films) and Oscar nominee Michael Shannon ("Revolutionary Road," "Nocturnal Animals") star in "12 Strong," a powerful new war drama from Alcon Entertainment, Black Label Media and Jerry Bruckheimer Films. Based on the book best-selling book Horse Soldiers, it is story of heroism based on true events that unfolded a world away in the aftermath of 9/11.
News & Interviews for 12 Strong
Critic Reviews for 12 Strong
Audience Reviews for 12 Strong
½
Do you think it was weird for Hemsworth to constantly be referred to as Cap? *Seriously though, what these men did was incredible and director Nicolai Fuglsig finds an effective way to convey as much even if it takes him a good portion of the running time to find his footing.
Philip Price
Super Reviewer
12 Strong is an adrenaline-charged war drama based on a true story of a group of Special Forces soldiers deployed after 9-11 to take down the Taliban. Can't complain over the ensemble cast filled with my favourite actors like Chris Hemsworth, Michael Shannon and Michael Pena. But it's Navid Negahban as General Dostum who is the scene stealer for me. My grief about the film? The pacing was too workman-like and uninspired. The script lacked depth, and the delivery was almost boring and lacked a strong climactic end. The 12 Strong men certainly deserved better!
Chrisanne Chin
Super Reviewer
½
Everyone knows that once the Twin Towers were attacked on September 11, 2001, soldiers went into battle and wars have been occurring ever since. That part is well-known by everyone around the world. These wars will soon be talked about in history classes if they aren't already, so it goes without question that films will be made about certain aspects of the war, due to the significant impact that it has left and continues to leave. The story that 12 Strong presents is something that has been classified until recently, so it should be quite the surprise to many. There are many aspects about this film that follow the standard war film formula, but as long as it's supported by a solid cast, great sequences, and solid direction, the premise itself should be enough to carry its audience, and I believe it does just that. Now playing in theatres, here's why I think 12 Strong deserves a watch, even if not immediately. Following the first twelve men that stood up to make the first attacks after the collapse of the Twin Towers back in 2001, this movie explores the true story of courage and ambition that these men displayed for the world. As a film, it does feel slightly formulaic, due to the fact that it pretty much takes you from one location to another in a fairly simple way, but I can also see this being exactly what went down in reality, so I was able to forgive that flawed aspect pretty quickly. This is a film about intensity and the characters surrounding that intensity and for that, it succeeds with flying colors. From Chris Hemsworth to Michael Pena, Michael Shannon to a fair newcomer in Trevante Rhodes (whom I loved in 2016's Moonlight), this is a stacked film. I always appreciate when a movie delivers crazy amounts of action, while also finding the time to slow down and give each character their moments to shine. No, the character development here isn't anything to write home about, but I have to admit that I was wrapped up in each of their stories. Simple moments of characters sitting by a fire and reminiscing gets to me if it's done well, and 12 Strong accomplishes these feats quite well. This movie definitely isn't for the faint of heart in terms of gore or being turned off by too much action, because when this movie wishes to display its reign of terror on the people who have some sort of involvement in the terrorist attacks, 12 Strong does it in a very visceral manner. From showing executions to showing towns being bombed, I found this movie to be a fresh dose of reality to people who seem to forget about the horrors that go on around the world on a daily basis. As I said, there's nothing spectacular about this movie, but I think it's a little more important than people are making it out to be. Although director Michael Bay hit a high point in his career with the film 13 Hours (at least in my opinion), I feel that 12 Strong is a film that shows real promise for director Nicolai Fuglsig. This is his first mainstream outing, and I have to call it as I see it and say that I believe this man knows how to portray action on-screen and I can't wait to see the progression of his career as a filmmaker. In terms of action, I would recommend keeping an eye on this name for the future. Overall, 12 Strong is a solid and important war flick when it comes to the core story and I believe everyone should check it out at some point, but I could also recommend quite a few better movies in the same genre. Impressive filmmaking, but just good as a whole.
12 Strong Quotes
There are no approved quotes yet for this movie.