12th & Delaware
(2009)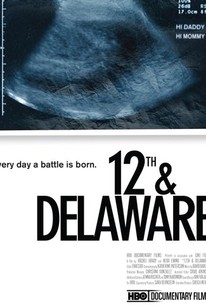 AUDIENCE SCORE
Critic Consensus: No consensus yet.
Movie Info
The two sides of the abortion debate in America literally face one another in this documentary from filmmakers Heidi Ewing and Rachel Grady. In Fort Pierce, Florida, a women's heath care center is located at the corner of 12th and Delaware. On the same corner, across the street, is another women's heath care center. However, the two centers are not in the same business; one provides abortions along with a variety of other health services, while the other primarily offers counseling to women considering abortion, urging them to keep their babies. In 12th and Delaware, Ewing and Grady offer a look inside both offices, as pro-life counselors give women a mixture of concern and disinformation about terminating their pregnancies and the pro-choice medical staff struggles to work under the frequent threat of violence against them. The film also examines the handful of protesters who stand outside the abortion clinic, confronting both patients and staff as they enter and exit. Produced for the HBO cable network, 12th and Delaware received its world premiere at the 2010 Sundance Film Festival.
Rating:
NR
Genre:
, , ,
Directed By:
Runtime:
Studio:
Critic Reviews for 12th & Delaware
All Critics (3) | Top Critics (1) | Fresh (3) | Rotten (0)

A potently dramatic tale of clashing ideologies where the middle ground appears to have vanished entirely.

It's important for a doco to find the human equation amidst a sea of stats, facts, and figures. '12th & Delaware' does that remarkably well.
Audience Reviews for 12th & Delaware
½
What's the everyday life in the abortion debate like? You won't find out by talking to celebrities or learning about courtcases. You will find out by seeing real people in action. As someone who was viewing this movie from a pro-life perspective, I found this film to be impartial and thought-provoking. It's not the type of film that's going to make anyone happy. However, a lot can be learned from it. Keep in mind that this smalltown community, abortion clinic, crisis pregnancy center, and the people involved are really unique. The film can't be generalized. This is the review on my blog: http://delesmuses.blogspot.com/2010/07/abortion-personalized.html
Jennifer Vaughn
This film shows just how manipulative some pro life centers can be and the outrageous lenghts they will go to insure the outcome of each girls pregnency is to there liking and beliefs. As I watched I wondered if it is only the Catholic church and it's followers who are acctive pro-life advocates as no other religon's followers seemed to be a focus of the director, leaving the viewer to assume this is a battle strictly between Catholics and women who seek abortions. Some good points were made but most of the film centered on the pro-life clinic and there tactics. Worth watching either way if not just for an insight/education but also to see how both sides act and react. Just be prepaired for a heavier dose of pro-life footage.
M Cost
12th & Delaware Quotes
There are no approved quotes yet for this movie.